Introduction
BLAST Premier Spring Series was the first tournament for the European team in 2020, where G2 reached Spring Finals without any problems. At IEM Katowice G2 reached the final, where they lost to Natus Vincere in bo5 series. Immediately after the start of EPL S11 Europe, G2 failed to qualify for the second stage of the event.
G2 performed well at the first RMR event, Road to Rio-Europe, losing only to Astralis in the grand final. In summer DreamHack Masters 2020, G2 repeated the success of Rio and reached the grand final, but in the next bo5 they lost to BIG.
In Spring Finals of BLAST Premier 2020 Europe, the Europeans failed to advance far on the play-off grid, stopping at 5th-6th position.
At the next RMR tournament, cs_summit 6 Europe, G2 did not pass the group and earned 1000 RMR points.
After a summer vacation, G2 made it to the semifinals of ESL One Cologne 2020 Europe, but Heroic left them one step away from another final. Following Cologne, there were EPL S12 Europe and IEM New York 2020, where G2 failed to reach the playoffs.
At DreamHack Open Fall 2020, the European team passed the group, but could not advance further on the playoff grid, stopping at 12th place and 781 RMR points only.
For BLAST Premier Fall, G2 changed the line-up, NiKo took the place of Jackz and in this line-up they made it to the final of BLAST Premier Fall. In IEM Beijing-Haidian 2020, G2 advanced to the semifinals where they lost to Natus Vincere. Immediately after IEM, there was a winter DreamHack Masters 2020, where G2 failed to pass the group stage, losing to FURIA and Astralis.
G2 ended this year with the BLAST Premier 2020 Fall Finals, beating FURIA in the playoffs, but couldn't handle BIG and Astralis next after.
Achievements
#1-#3, BLAST Premier Spring Series 2020
#1-#3, BLAST Premier Fall Series 2020
#2, IEM Katowice 2020
#2, ESL One: Road to Rio - Europe
#2, DreamHack Masters Spring 2020 - Europe
#3-#4, ESL One Cologne 2020 Europe
#3-#4, IEM Beijing-Haidian 2020 Europe
Statistical Review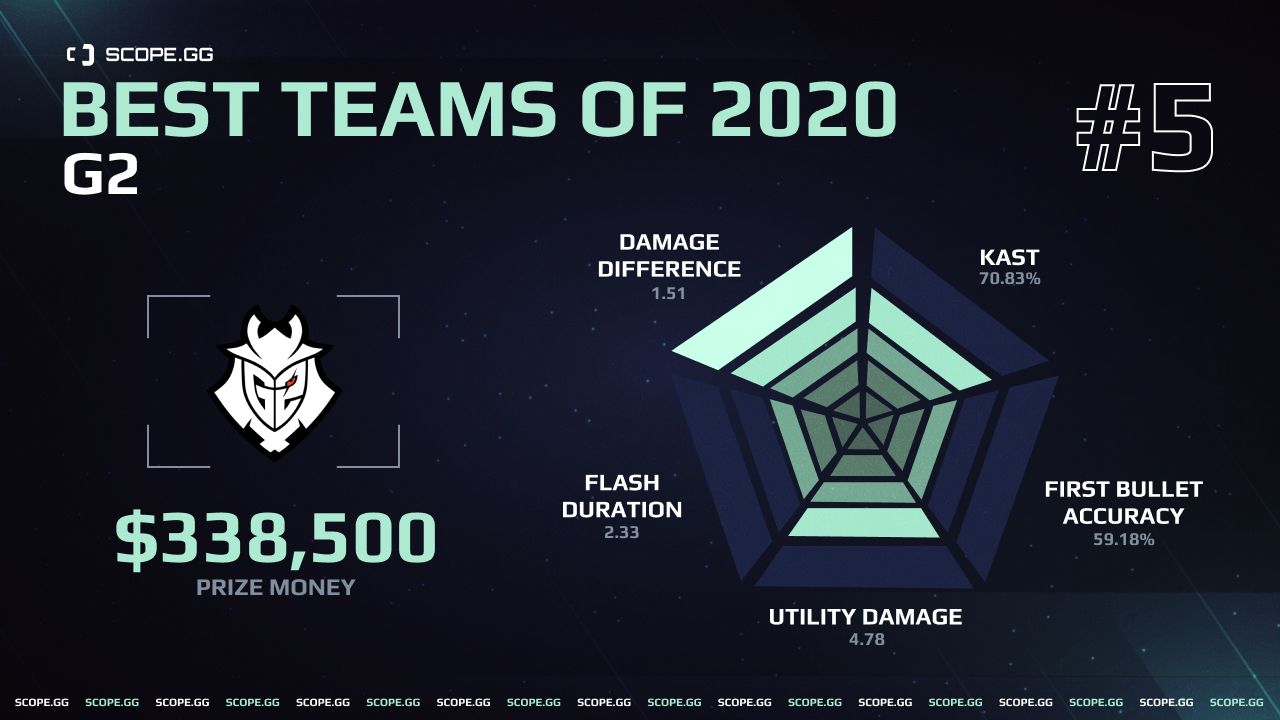 Balance in all things. G2 didn't underperform in any single parameter with a decent numbers in Utility Damage, KAST, Damage Difference & Grenade Usage.
Though it was a pretty tough year for G2 and they didn't win many events, their game was set up pretty well.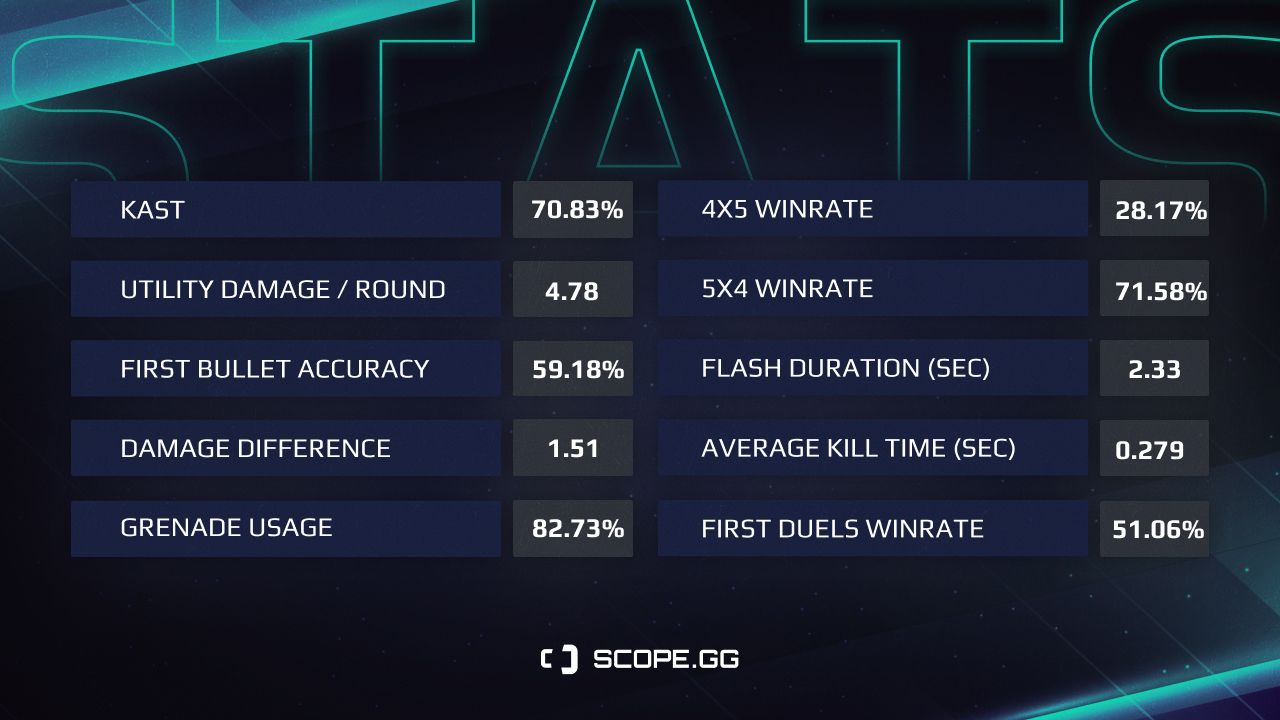 Big Number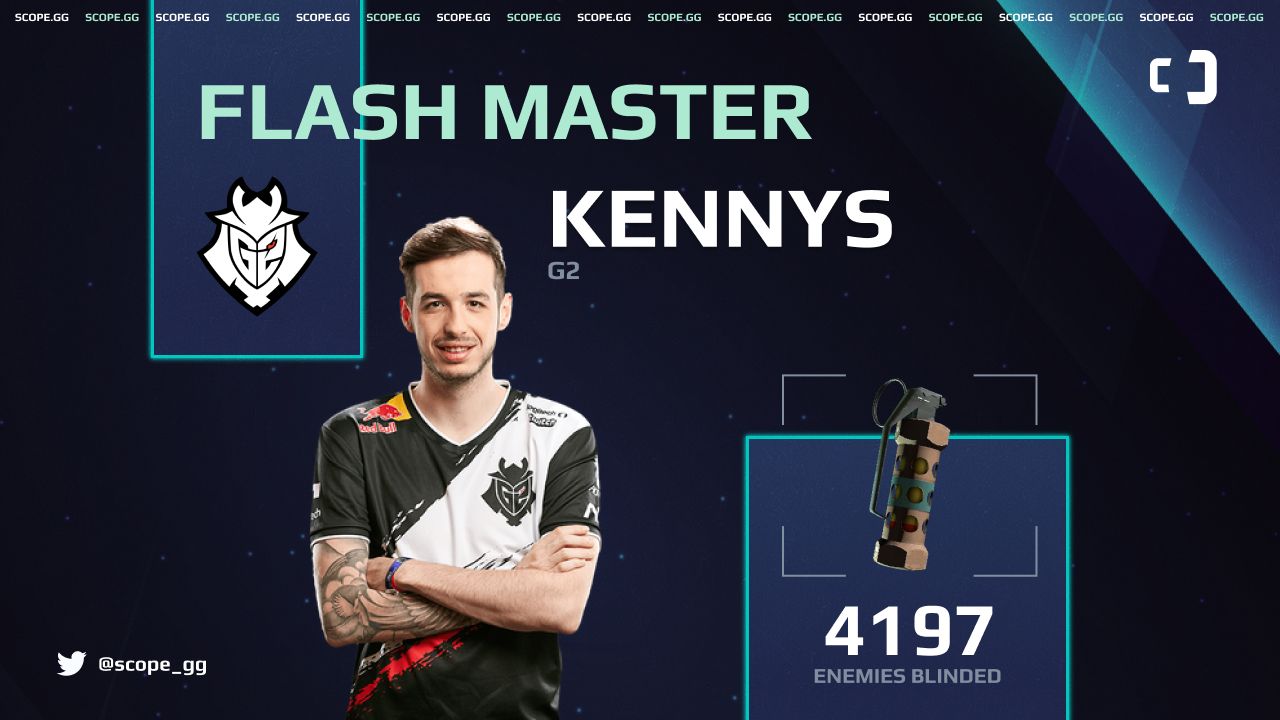 Top Performance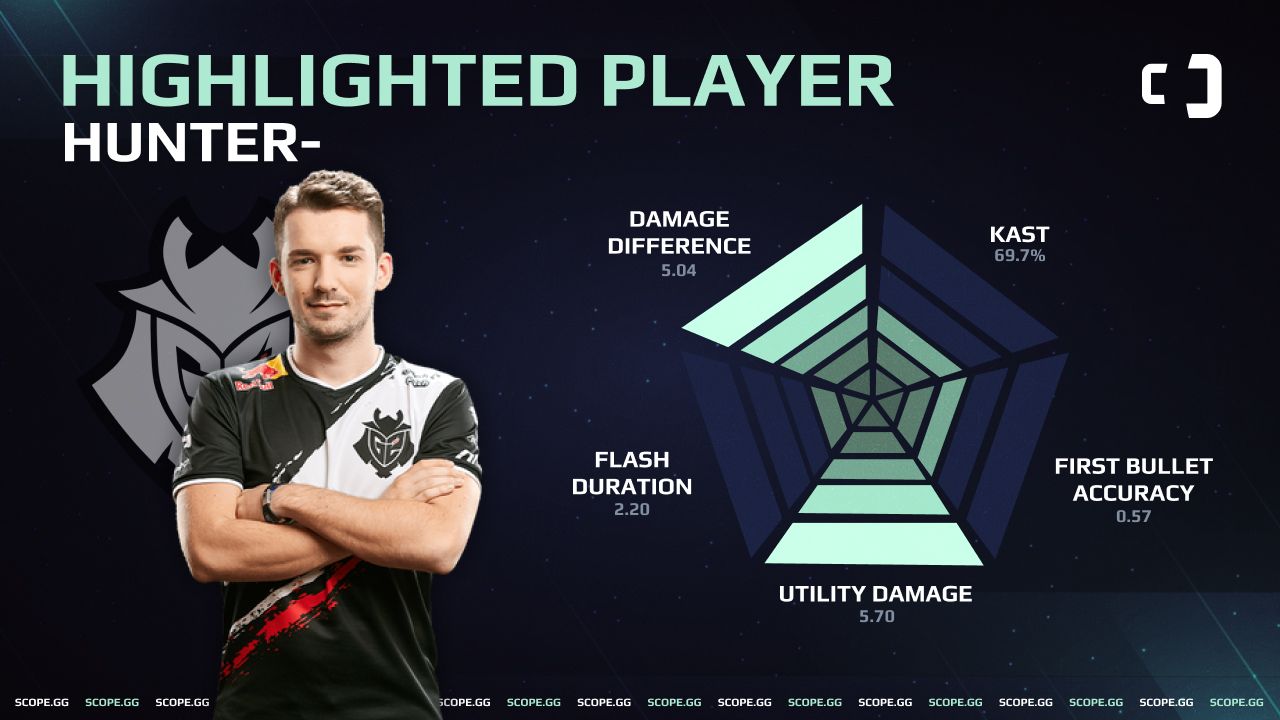 Sick utility damage by huNter-! In a combo with high "shooting" impact this is the basis of huNter-'s successful performance.
Though, flashbang efficiency was not the best for him in 2020.
Fun Stats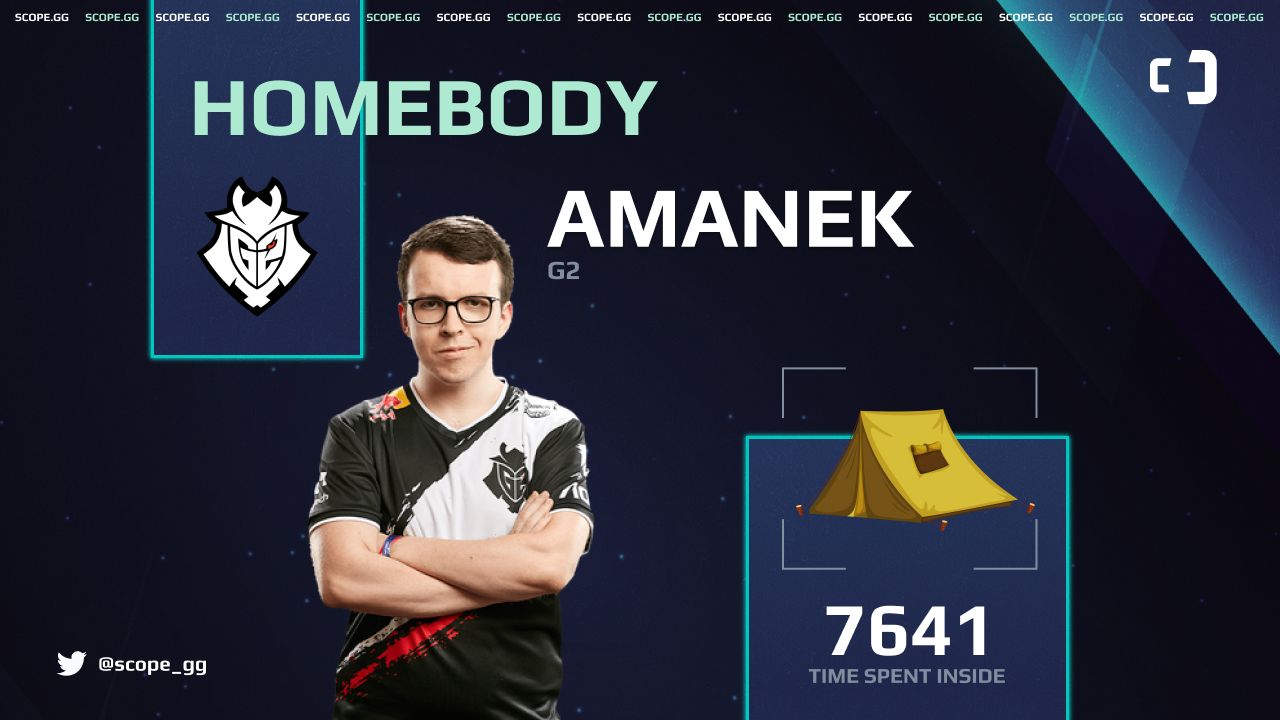 This time is in seconds. So, AmaNEk spend more than 127 hours at home (if exactly, under the roof).
Team's Highlights
Both before and after NiKo's arrival G2 presented us smart playstyle with a stable-decent grenade usage and strong firepower.
However, in 2021 we expect them to be more aim-oriented and play around NiKo.
Best teams of 2020
• #10, FaZe Clan
• #9, mousesports
• #8, Vitality
• #7, Heroic
• #6, FURIA
• #4, BIG
• #3, OG
• #2, Natus Vincere
• #1, Astralis