Introduction
The Brazilian team opened 2020 with a 2nd place at DreamHack Open Anaheim, losing to Gen.G 0-2 in the final. The next tournament was ESL S11 NA, where FURIA took 3rd place. Following EPL, the first RMR event of 2020 ESL One: Road to Rio NA was held, where the Brazilians showed a good performance and achieved 2nd place with 1500 RMR points.
After beating Gen.G twice, FURIA made it to the finals in Spring American BLAST Premier 2020 Showdown. Then the Brazilians repeated their success and reached the final of DreamHack Masters Spring, where they beat Liquid 3-0 in bo5 series. At BLAST Premier Spring Finals FURIA failed to show the best performance and took only 3rd place. A similar scenario was cs_summit 6 NA, where FURIA did not pass the group and remained with 1375 RMR points in 6th place.
After the summer break, FURIA had a winning streak: 1st place in DreamHack Open Summer 2020 NA, 1st place in EPL S12 NA and 1st place in IEM New York 2020 NA, where they earned 2500 RMR points and a slot in IEM Global Challenge 2020.
In fall series of BLAST Premier Europe, FURIA did not pass Group C and fell to BLAST Premier Showdown, from where they still made it to Fall Finals In European DreamHack Masters Winter 2020, the Brazilians reached the semifinals and took 3-4 place.
In BLAST Premier Fall Finals, FURIA beat only OG and took 5th-6th place. With a similar result for Brazilians, IEM Global Challenge was also held – FURIA didn't show their best at the end of 2020.
Achievements
#1, DreamHack Masters Spring 2020 North America
#1, DreamHack Open Summer 2020 North America
#1, ESL Pro League Season 12 North America
#1, IEM New York 2020 North America
#1-#2, BLAST Premier Spring 2020 Americas Showdown
#1-#2, BLAST Premier Fall 2020 Showdown
#2, DreamHack Open Anaheim 2020
#2, ESL One: Road to Rio - North America
#3, BLAST Premier Spring 2020 Americas Finals
#3, ESL Pro League Season 11 North America
#3-#4, DreamHack Masters Winter 2020 Europe
Statistical Review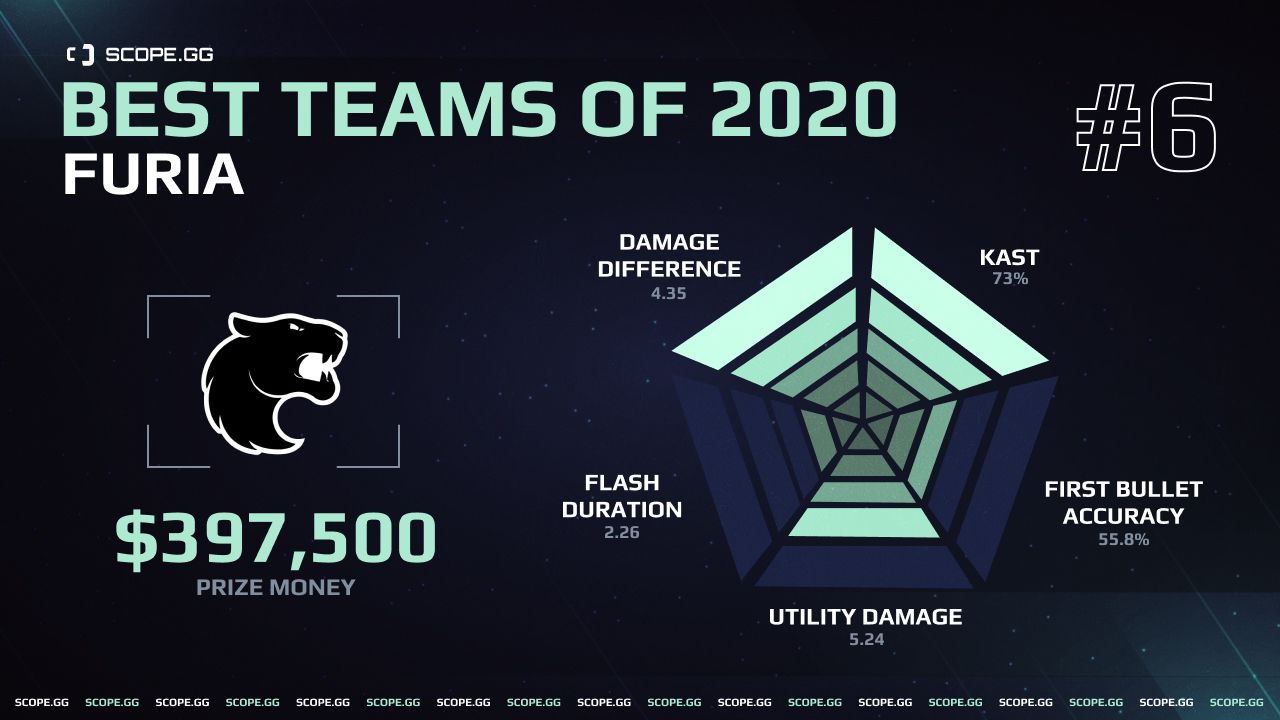 FURIA outclassed their opponents by Damage Difference and KAST, but also they were pretty good in utility damage.
The only negative side here is a flashbangs efficiency.
Also, we shouldn't forget that more than half of the year FURIA played in North America events which makes their numbers a bit too high.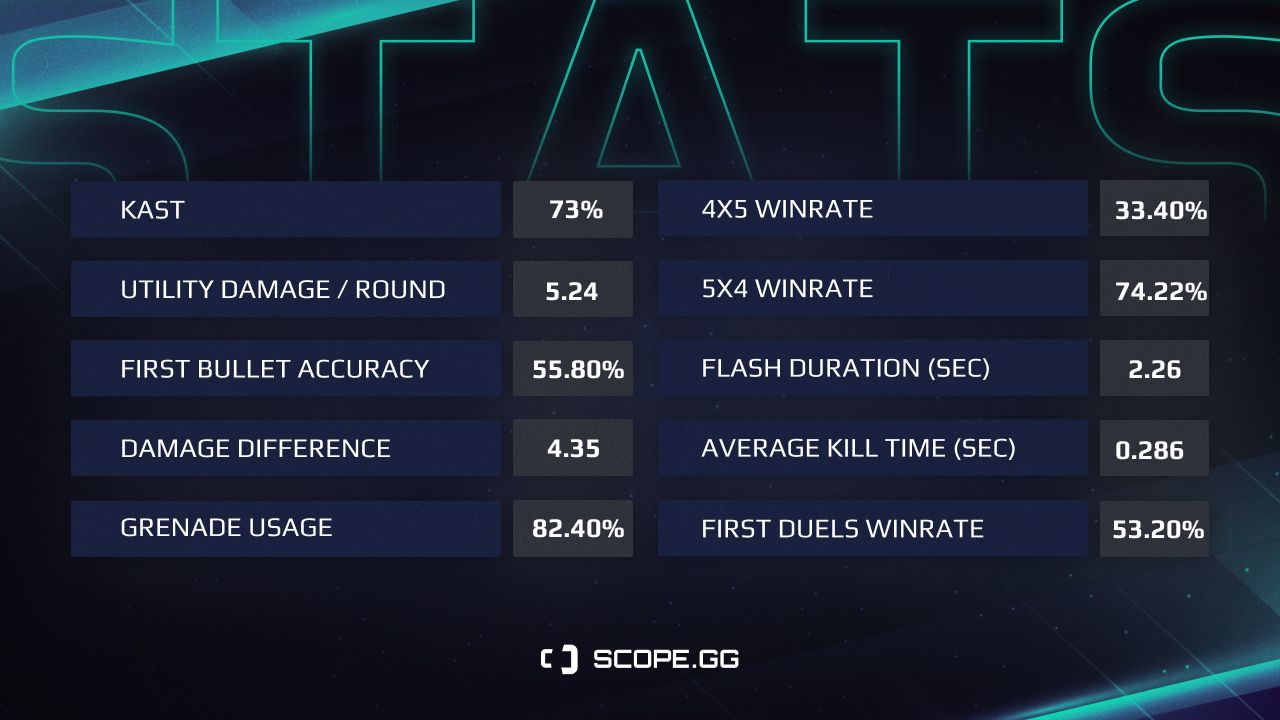 Big Number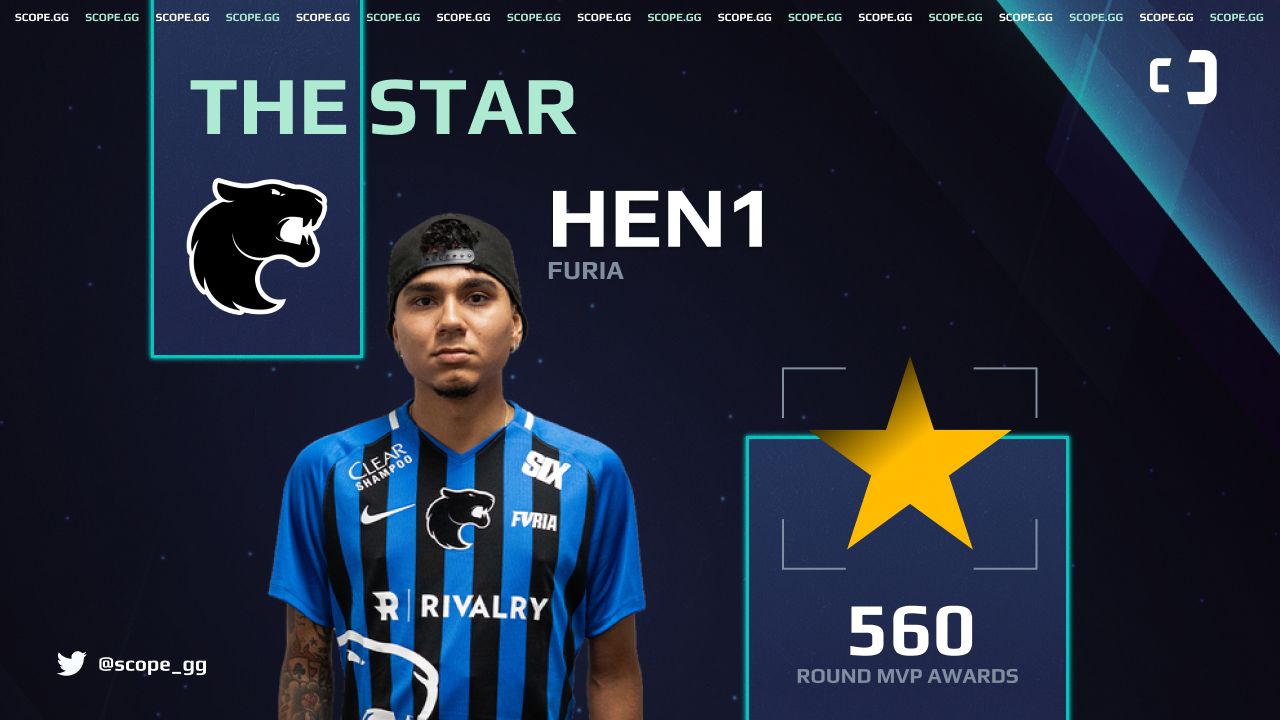 Top Performance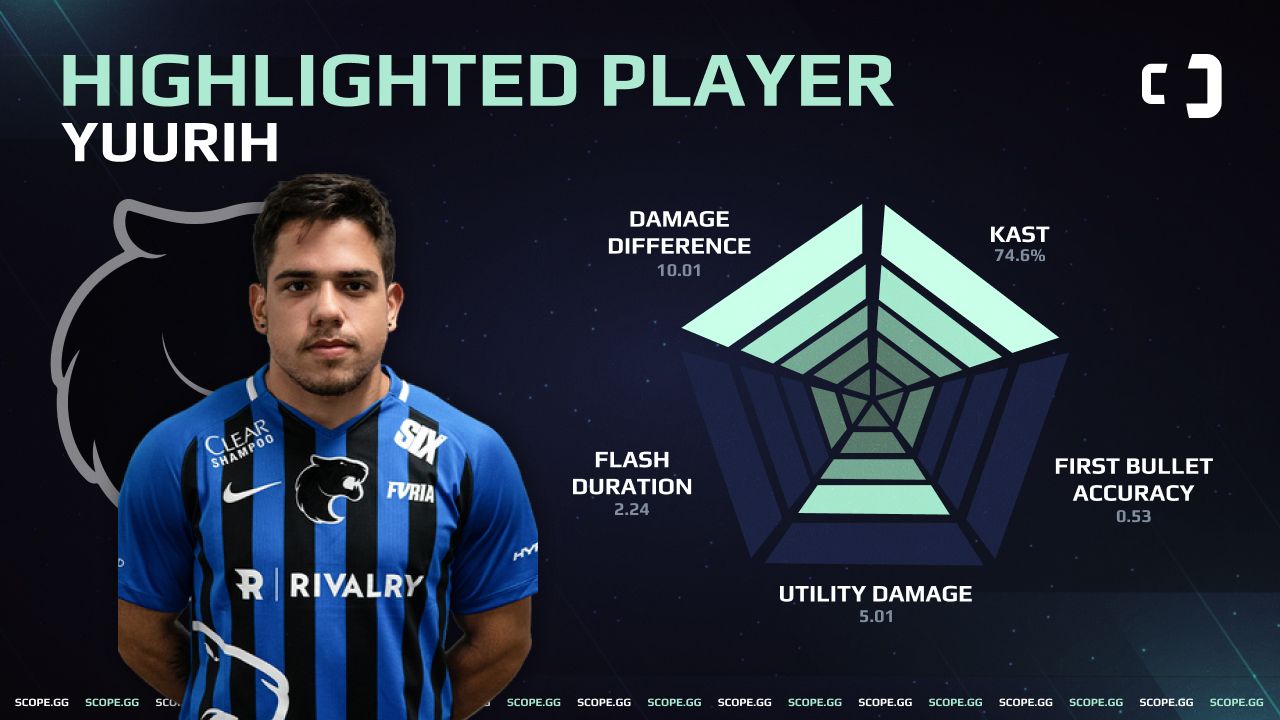 Yuurih brought insane pure impact in 2020 – his damage difference and KAST numbers are incredible. Also we'd like to mention high utility damage.
Negative side: first bullet accuracy and flashbangs efficiency could be better.
Fun Stats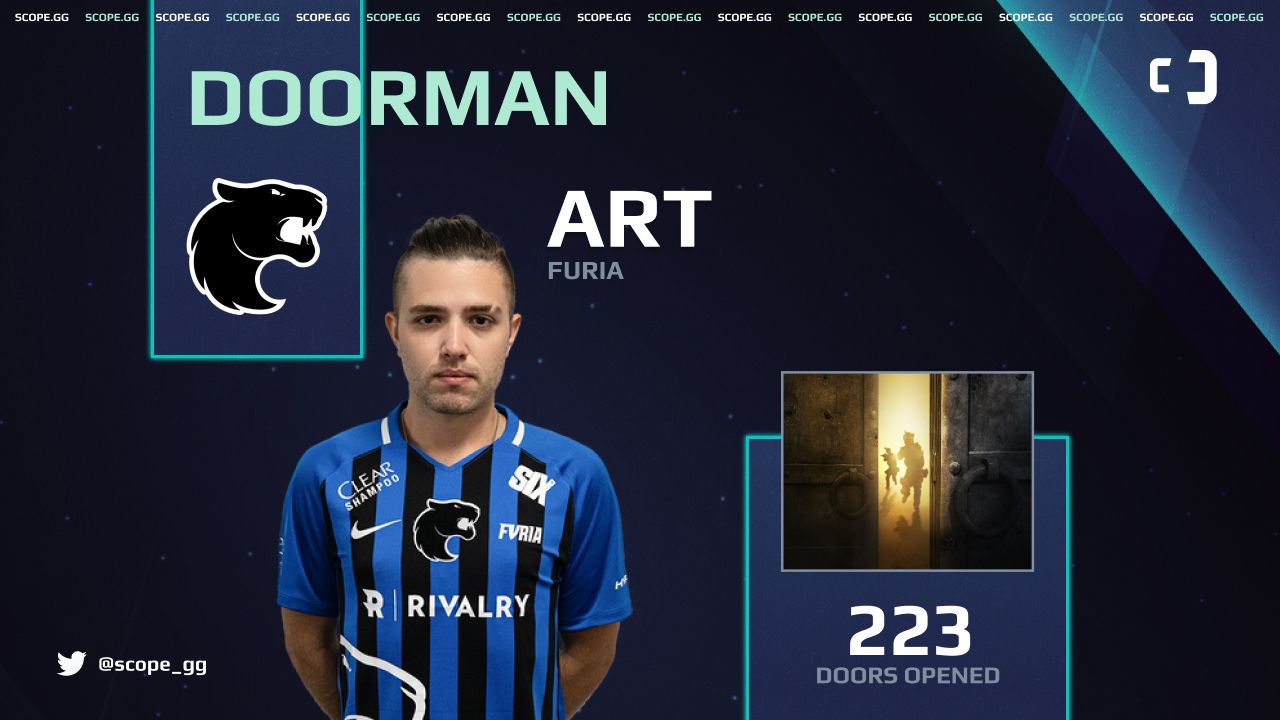 Team's Highlights
Sad thing is that FURIA were unable to play against the top teams for most of the year.
Just because from what we have seen when they came to Europe last fall, it could have been an exciting year for FURIA. Even more exciting then they had.
In general, FURIA's performance was well-balanced, without real weaknesses.
Best teams of 2020
• #10, FaZe Clan
• #9, mousesports
• #8, Vitality
• #7, Heroic
• #5, G2
• #4, BIG
• #3, OG
• #2, Natus Vincere
• #1, Astralis