Introduction
For Natus Vincere, 2020 began with a change in the line-up as Perfecto took the place of the GuardiaN.
At ICE Challenge 2020, Na`Vi reached the final and lost to mousesports in the bo5 series with 1-3 score. Then, Natus Vincere won Group B on Blast Premier Spring regular season. At IEM Katowice 2020, the last LAN-event for Natus Vincere in 2020, the CIS team reached the final and beat G2 3-0 in the series.
At ESL One: Road to Rio in CIS, Natus Vincere did not reach the playoffs and took 950 RMR points. In DreamHack Masters Spring 2020 and BLAST Premier Final, Na`Vi took 4th place, both times facing difficulties in the playoff.
In the next RMR event, WePlay! Clutch Island, Na`Vi not without difficulties reached the final, where they beat Spirit and took 2000 RMR points.
After the tournament break, Natus Vincere failed to pass Group B in ESL One Cologne 2020 Europe. Immediately after, ESL S12 Europe began, where the CIS team showed excellent form and reached the final, but Astralis stopped them.
At the last RMR tournament in 2020, Natus Vincere took 4th place and received 2031 RMR points. Having beaten NiP twice, Natus Vincere got a slot for the finals of BLAST Premier Fall 2020. CIS team performed well in IEM Beijing-Haidian 2020 Europe, reached the final, where they lost to Vitality with a 2-3 score. In BLAST Premier Fall Finals, Astralis stopped Natus Vincere on the way to the final on the lower bracket. In the playoffs of IEM Global Challenge 2020, Na`Vi did not qualify for the final, losing to Astralis.
Achievements
#1-#3, BLAST Premier Spring Series 2020
#1, IEM Katowice 2020
#1, WePlay! Clutch Island
#2, ESL Pro League Season 12 Europe
#2, ICE Challenge 2020
#2 IEM Beijing-Haidian 2020 Europe
#3-#4, IEM Global Challenge 2020
#4, ESL Pro League Season 11 Europe
#4, DreamHack Masters Spring 2020 - Europe
#4, BLAST Premier Spring 2020 Europe Finals
#4, IEM New York 2020 CIS
#4, BLAST Premier Fall 2020 Finals
Statistical Review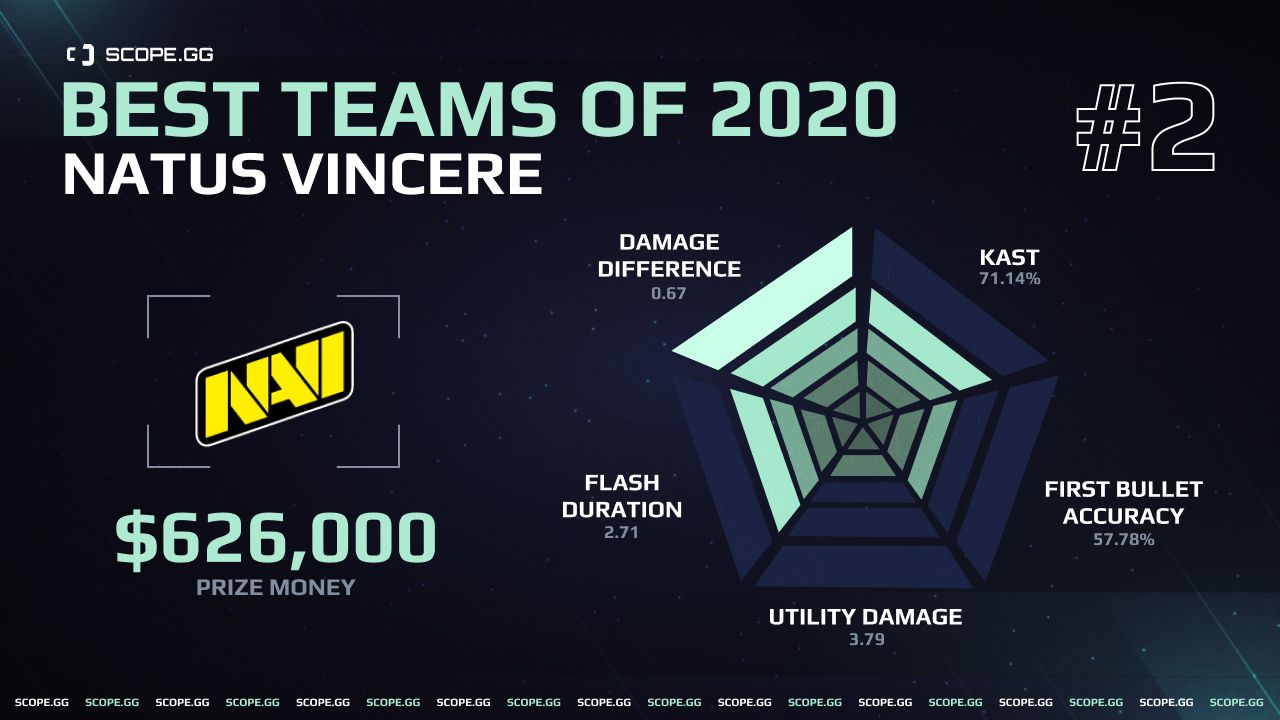 Shooting impact, KAST & flashbangs – that's what Natus Vincere were outstanding most of the teams in 2020.
Actually, Na`Vi had the best performance by average flash duration across our top-10 list.
Worth mentioning: incredible 4x5 winrate.
Negative side: low utility damage per round and not the best first bullet accuracy.
Big Number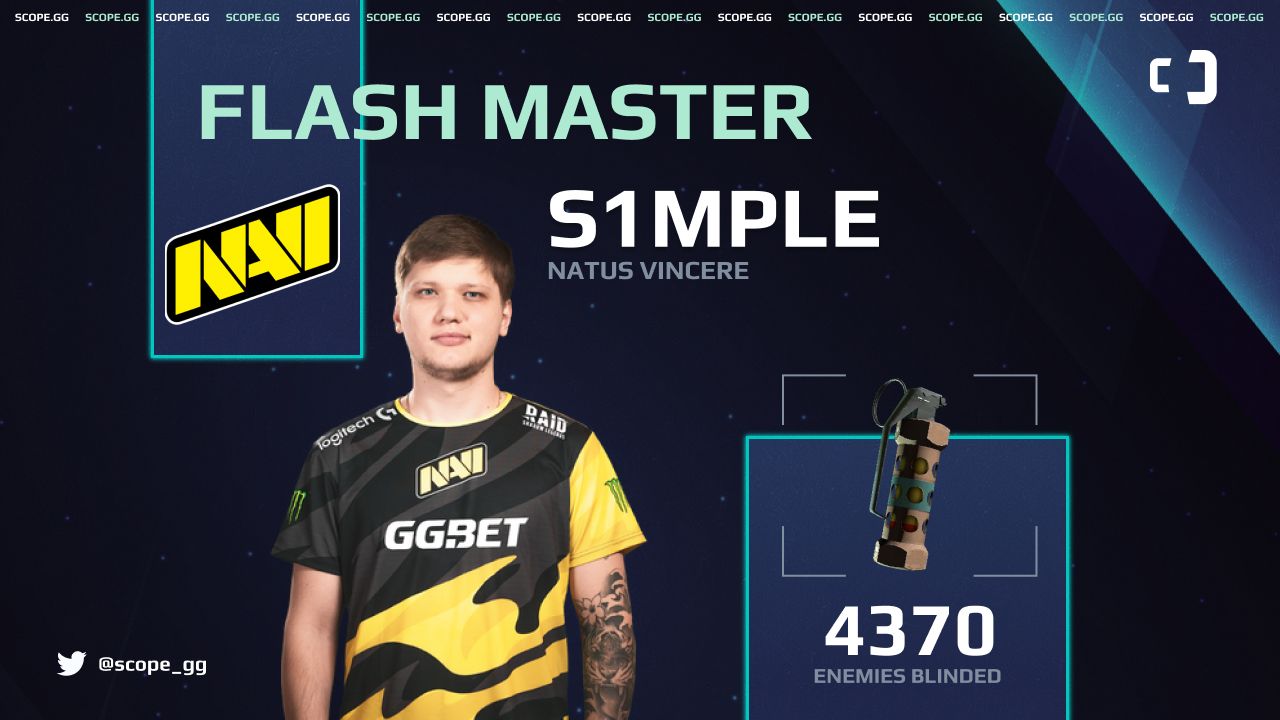 That's something you didn't expect to see here, right?
Top Performance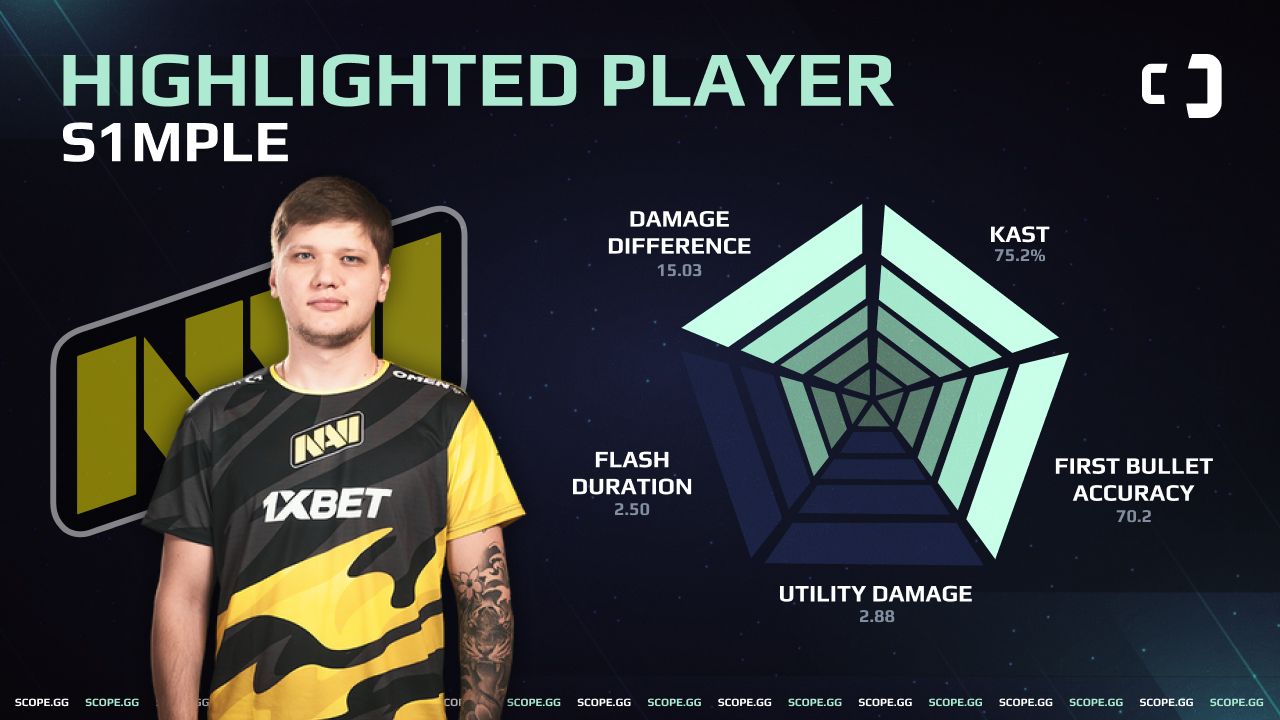 Obviously, s1mple.
Insane pure impact with +15.03 damage difference and 75.2% KAST in a combination with high first bullet accuracy – well, you know the only player who could contest s1mple this year.
Negative side: extremely low utility damage.
Fun Stats
Team's Highlights
It was extremely successful year for Natus Vincere – they managed to find success at multiple events, and with Perfecto's arrival Na`Vi's performance stabilized.
We can't ignore the fact that Natus Vincere in 2020 have improved their teamplay and communication strongly, even having a super-star player on board.
Let's see what happens this year, but in 2020 Natus Vincere were looking balanced and well-prepared.
Best teams of 2020
• #10, FaZe Clan
• #9, mousesports
• #8, Vitality
• #7, Heroic
• #6, FURIA
• #5, G2
• #4, BIG
• #3, OG
• #1, Astralis