Introduction
For BIG, 2020 began with changes in the lineup: syrsoN and k1to came to replace nex and smooya as well as gob b replaced LEGIJA as coach. BIG passed the first test this year and took 1st place at DreamHack Open Leipzig 2020. At ESL S11, the German team did not pass the group stage.
In DreamHack Masters Spring 2020 - Europe, BIG showed a great game and made a reverse sweep versus G2 in the final bo5 match. After DreamHack, the Germans qualified for cs_summit 6 Europe, where they defeated Vitality in the bo5 grand final and earned 2000 RMR points.
With the same success for BIG DreamHack Open Summer 2020 Europe was held, where they beat Heroic 2-0 in the final. At ESL One Cologne 2020 Europe BIG could not repeat the success of the last tournaments and did not pass the group.
In EPL 12 Europe BIG passed Group A and on the way to the next final they were stopped by Heroic. In IEM New York 2020 Europe, the Germans beat Heroic, but this did not help them to get out of Group B.
At DreamHack Open Fall 2020 RMR tournament, BIG took 5th place with 1,875 RMR points, losing to Vitality and Heroic in the playoffs. Then, in BLAST Premier Fall series, the Berlin team managed to reach the finals.
In BLAST Premier Fall Finals BIG made it to the final, but lost to Vitality, and then Astralis in the double elimination bracket and stopped in 3rd place. In the final tournament of the year, IEM Global Challenge 2020, the Germans reached the playoffs, where they lost to Liquid.
Achievements
#1, DreamHack Open Leipzig 2020
#1, DreamHack Masters Spring 2020 - Europe
#1, cs_summit 6 Europe
#1, DreamHack Open Summer 2020 Europe
#1, Merkur Masters Season 2
#1, Home Sweet Home Cup 1
#1, Home Sweet Home Cup 2
#1, Merkur Masters
#2, Home Sweet Home Cup 3
#2, ESL Meisterschaft Spring 2020
#3, BLAST Premier Fall 2020 Finals
#3-#4, IEM Global Challenge 2020
#3-#4, LOOT.BET Season 6
Statistical Review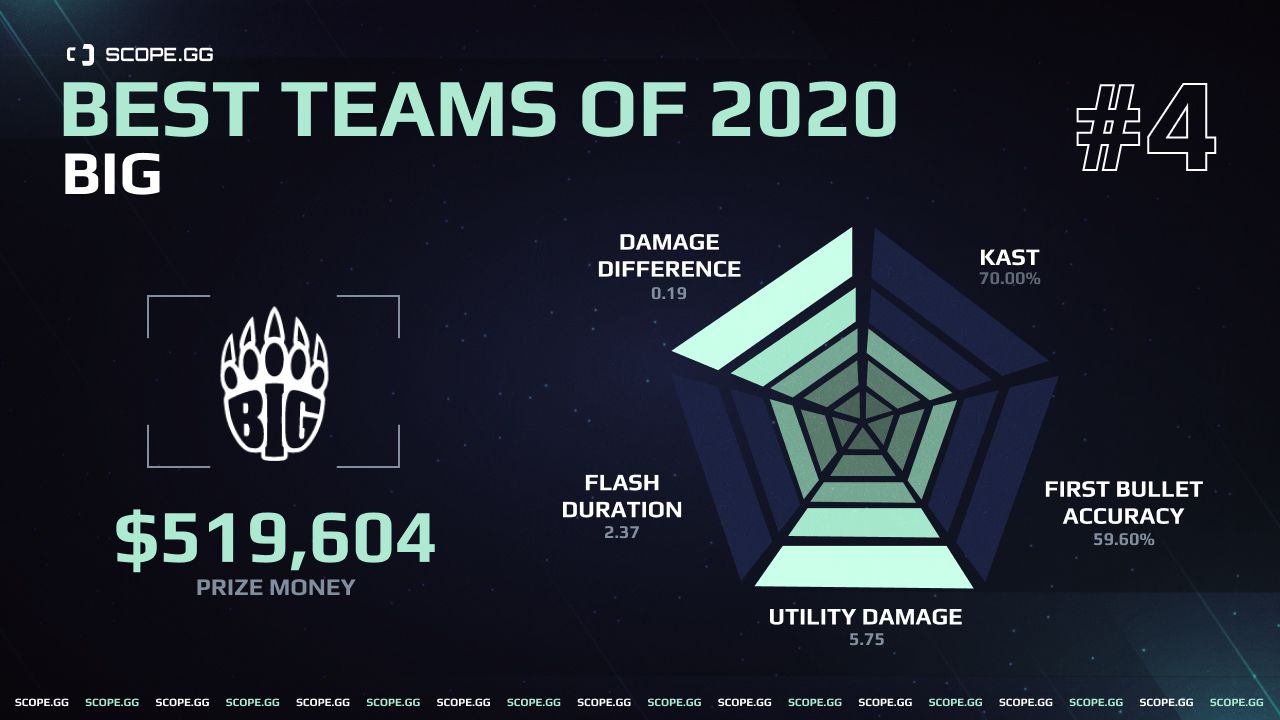 Shooting impact and utility damage are the notable parameters of BIG in 2020. They used molotovs and HE grenades pretty well and performed 28.6% better than average.
Additionally we want to mention high winrate in 5x4 situations.
On the other side, flashbangs efficiency was a bit lower than average.
All the other parameters were more or less about average.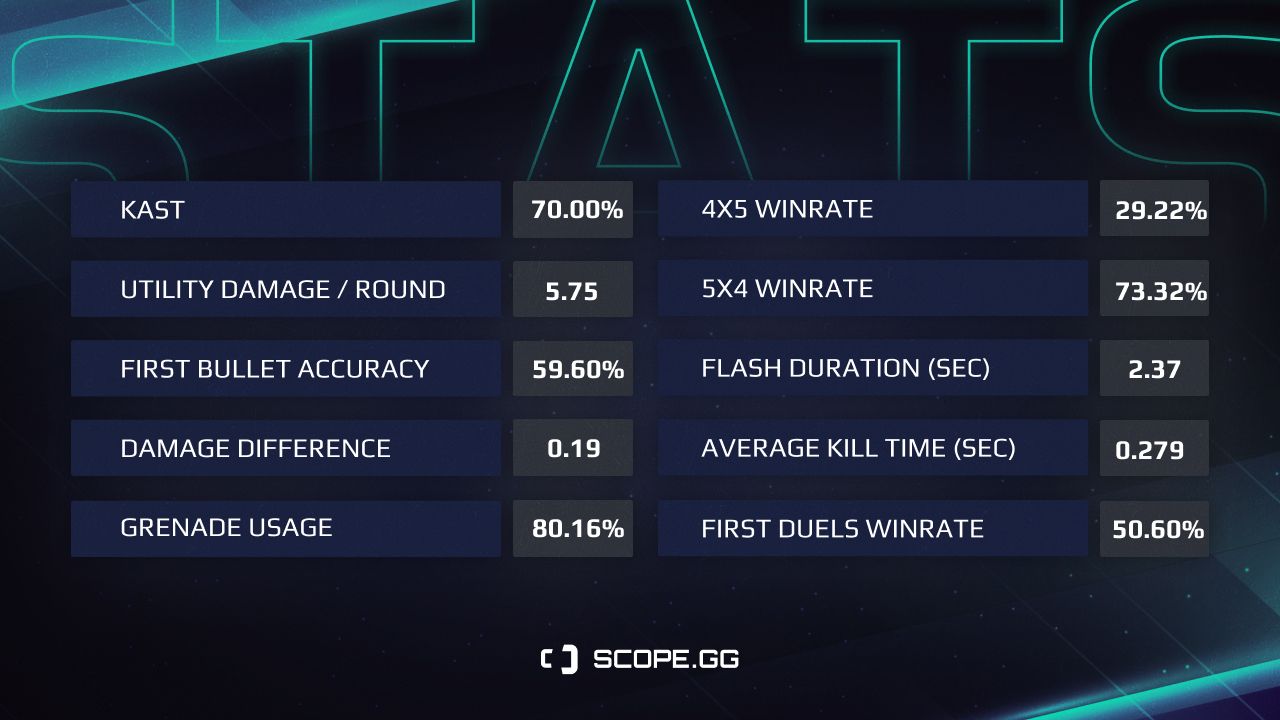 Big Number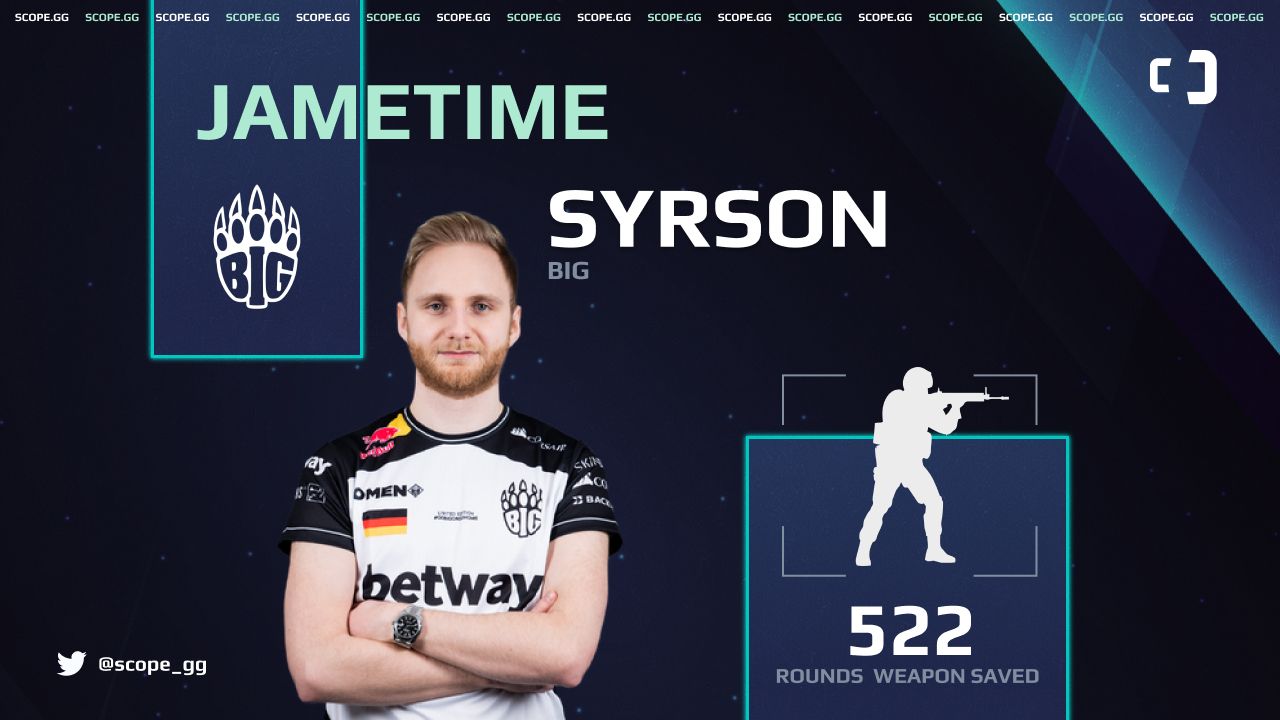 By the way, Jame saved weapons in much fewer rounds.
Top Performance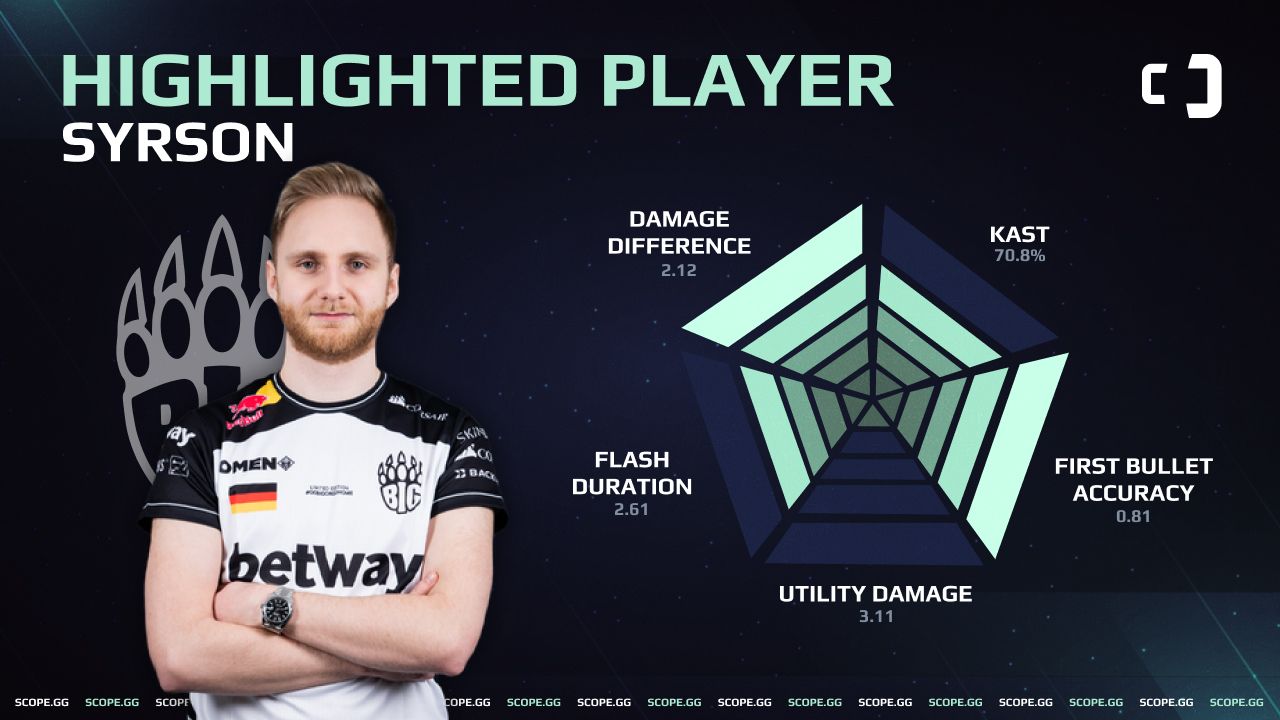 That's the sniper!
Take a look at syrsoN's First Bullet Accuracy – it's far ahead even if we compare this parameter only to AWPers.
That allows Florian to perform really well in first duels (62.09% winrate).
Weak point: utility damage of German sniper.
Fun Stats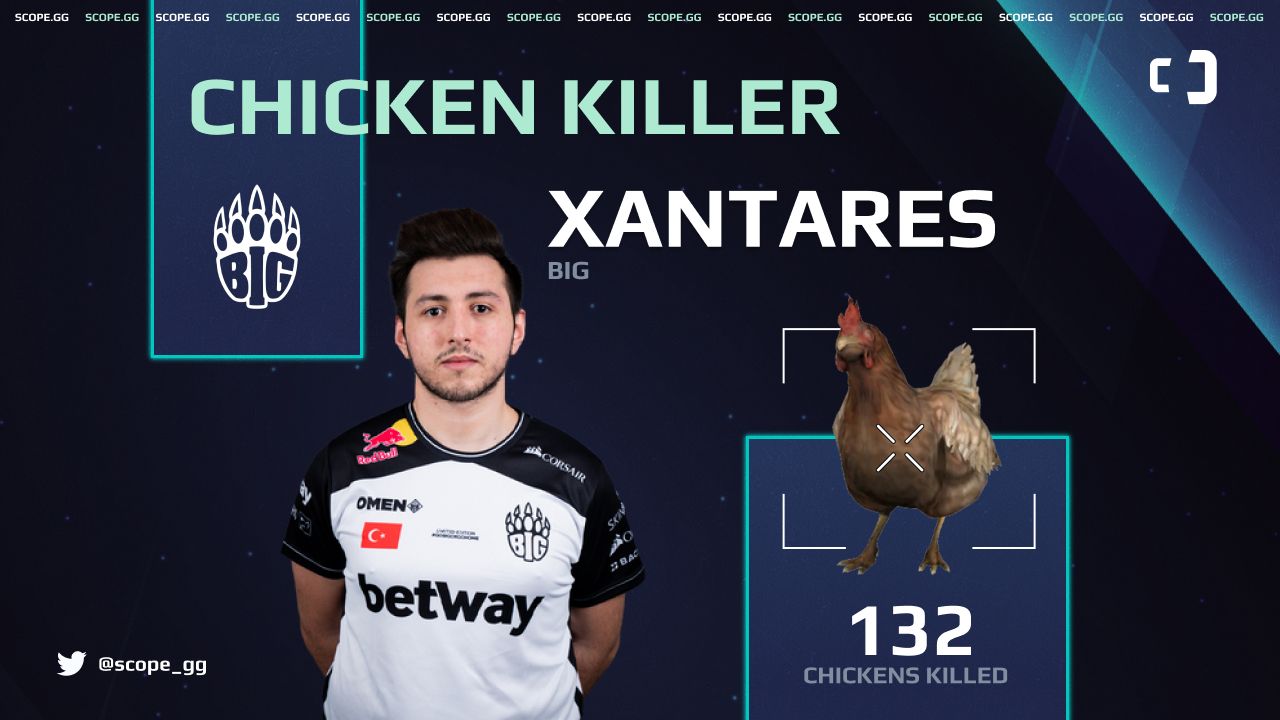 Team's Highlights
In general, it was really impressive year for BIG: they have started their rise in May, won multiple events and achieved the first position in HLTV ranking.
Their game was smart and consistent and we can't wait to see more exciting plays by them!
Best teams of 2020
• #10, FaZe Clan
• #9, mousesports
• #8, Vitality
• #7, Heroic
• #6, FURIA
• #5, G2
• #3, OG
• #2, Natus Vincere
• #1, Astralis