Introduction
After the team's unsuccessful performances at BLAST Premier Spring and IEM Katowice 2020, ALEX departed from Vitality, giving way to 17-year-old misutaaa. The first test for the French team was the European ESL S11, where they did not reach the second group stage and took only 7th-9th place.
The next important tournament for Vitality was RMR Road to Rio, where the French lost in the playoffs to their compatriots from G2 and earned only 1300 RMR points. This was followed by the spring DreamHack Masters, where Vitality were also stopped in the playoff stage.
In BLAST Premier Spring 2020 Europe Showdown, the French showed a good performance and earned a spot in the Spring Finals. In the final part of the spring BLAST series, Vitality played really well and took 2nd place, having lost to Complexity in the finals.
In the European cs_summit 6, another RMR tournament, the French also lost to BIG in the final and received 1875 RMR points.
After the summer break, Vitality reached the finals in ESL One Cologne 2020 only to get stopped by Heroic one step away from the title. After several finals, Vitality did not advance out of the group in ESL S12 and failed to defeat FaZe in the semifinals of IEM New York.
Vitality also managed to reach the finals in DreamHack Open Fall 2020, but once again lost to Heroic. After DreamHack, Vitality added a 6th player to their active roster, Nivera to play on Dust2 and Inferno. In this line-up Vitality found success in the Blast Premier Fall 2020 and advanced to the BLAST Premier Finals.
In IEM Beijing-Haidian 2020 Europe, Vitality got to the finals, where they beat Natus Vincere with a reverse sweep from 0-2.
After winning IEM Beijing, Vitality also took the BLAST Premier Fall Finals to their piggy bank, beating Astralis in the finals. In the last event of the year, IEM Global Challenge 2020, the French team failed to defeat Astralis in the decider match of the group stage.
Achievements
#1, BLAST Premier Fall 2020 Finals
#1, IEM Beijing-Haidian 2020 Europe
#1-#3, BLAST Premier Fall Series 2020
#1-#2, BLAST Premier Spring 2020 Europe Showdown
#2, BLAST Premier Spring 2020 Europe Finals
#2 cs_summit 6 Europe
#2, ESL One Cologne 2020 Europe
#2, DreamHack Open Fall 2020
#3-#4, IEM New York 2020 Europe
#4, ESL One: Road to Rio - Europe
Statistical Review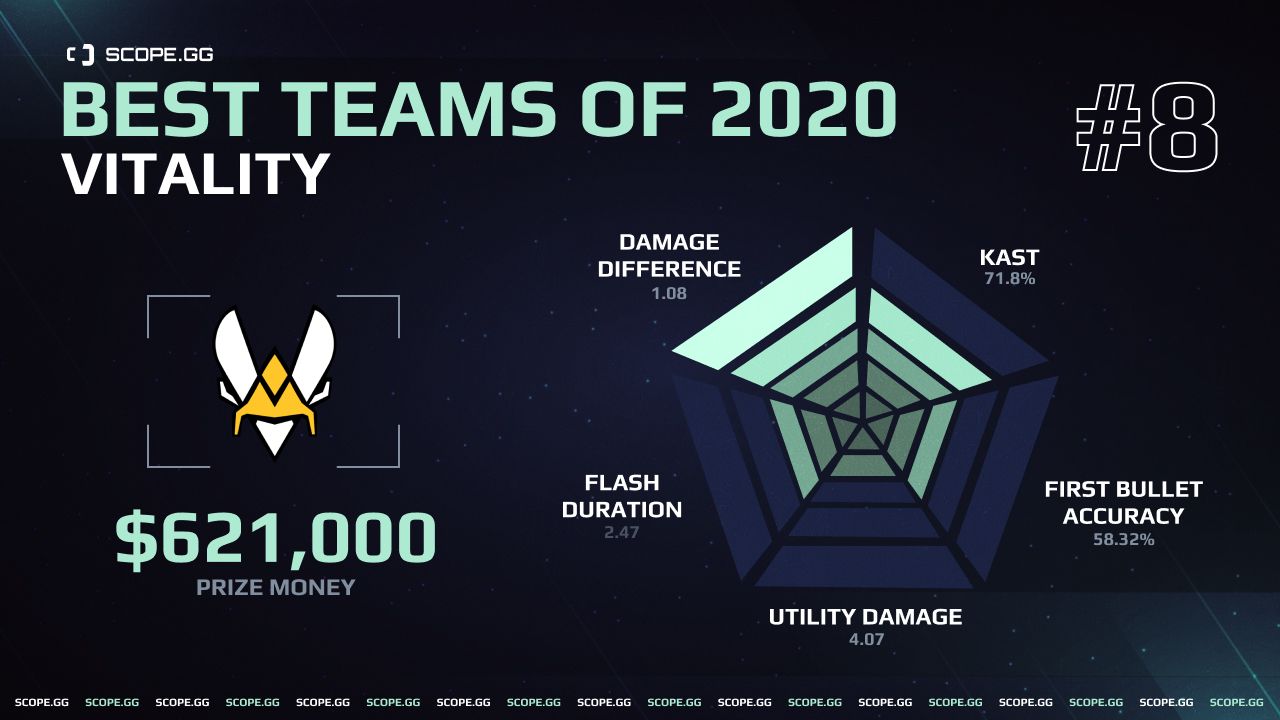 Vitality's pentagon is a mirror reflection of ZywOo's pentagon. The French got decent KAST and Damage Difference, largely because ZywOo's numbers outweigh everyone in Vitality so much in those stats.
With that being said, we can't ignore the team's low utility damage in general.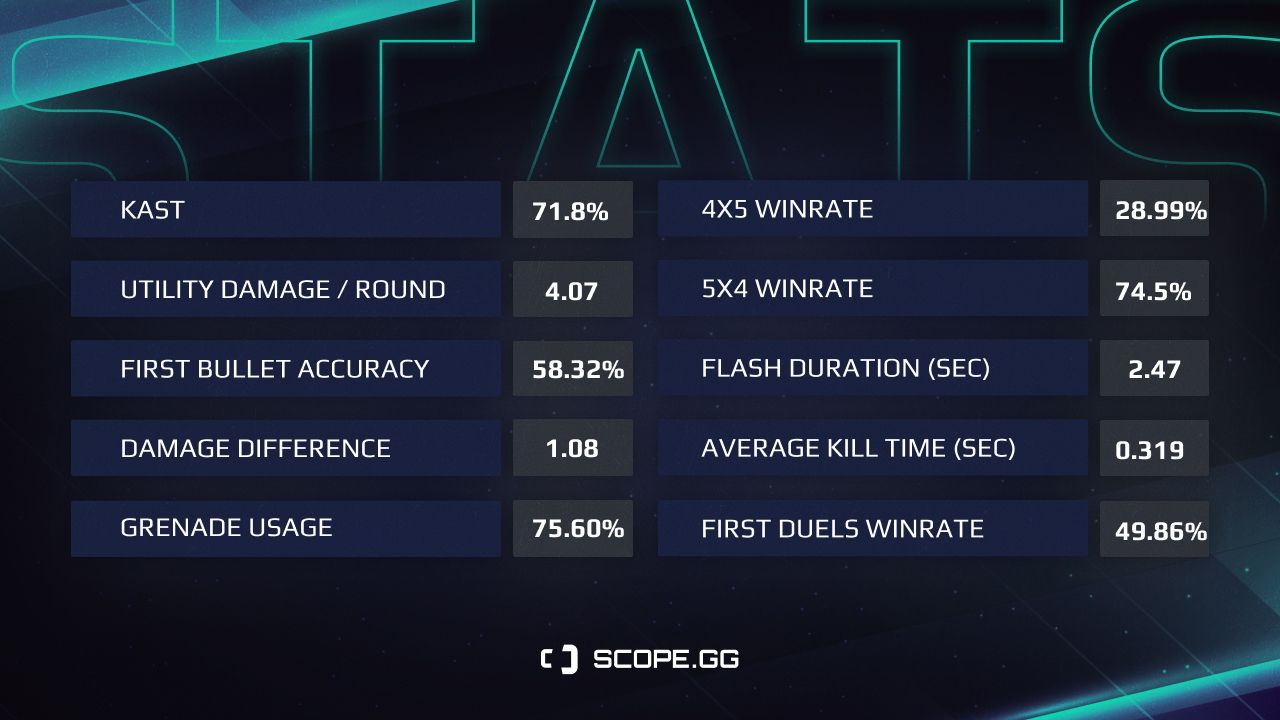 Worth mentioning:
• Average kill time is 10% worse than average. At that point, Vitality got the worst numbers across our top 10 teams list.
• Vitality showed high-level performance in 4v5 and 5v4 situations in 2020
• Vitality used 3% less grenades on average. Again, it's the worst number in our top 10 list. Out of top 20 HLTV teams only NiP performed worse (74.22%) in grenade usage.
Big Number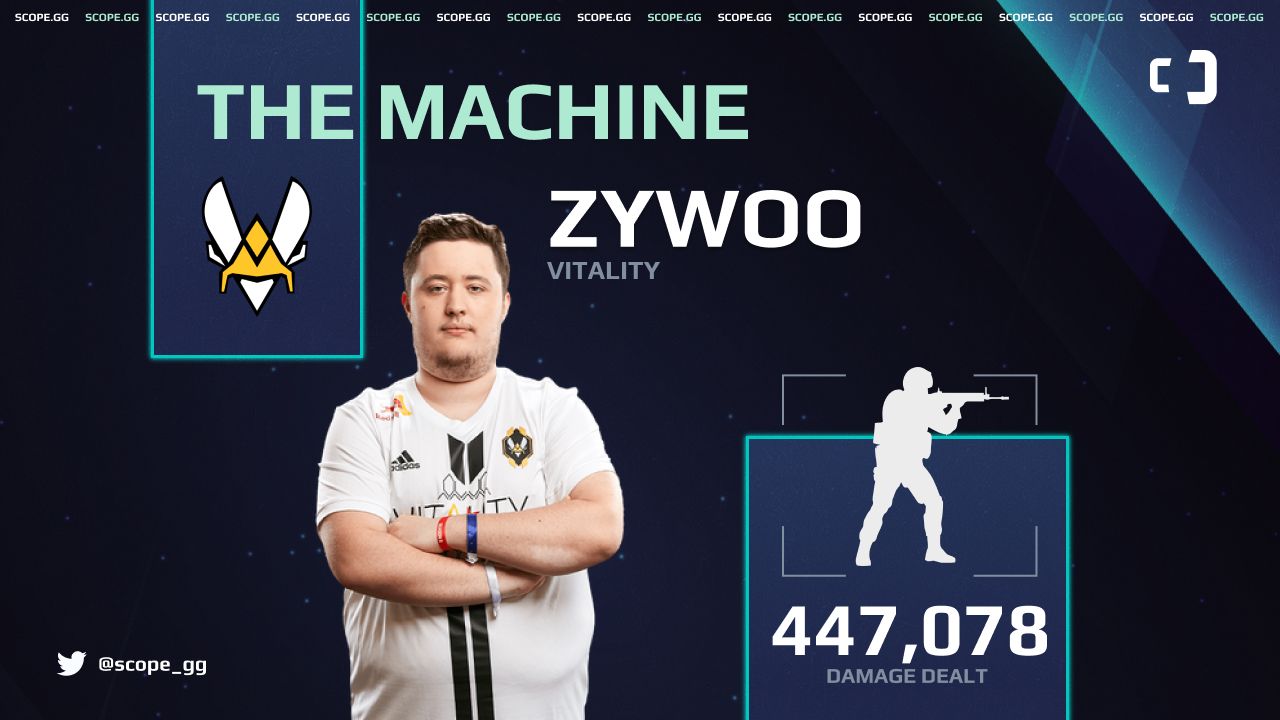 Top Performance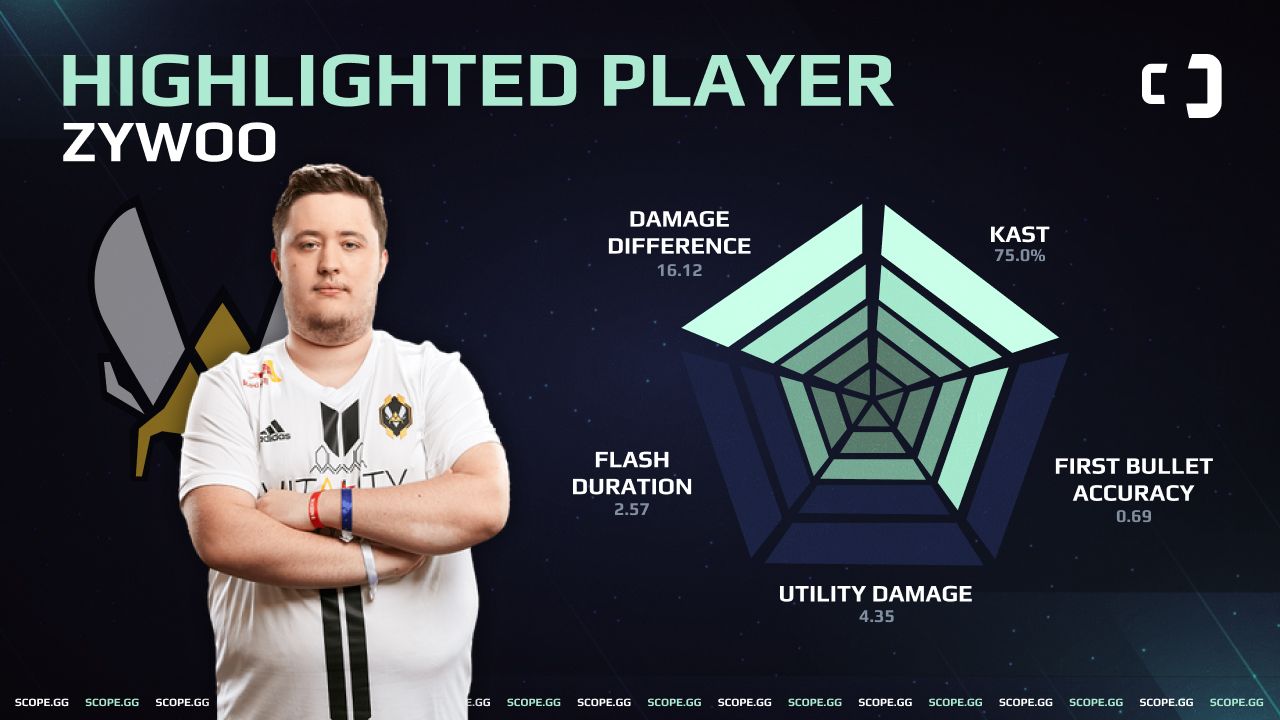 ZywOo has insane pure impact – his KAST and Damage Difference are on another level. In combination with his decent First Bullet Accuracy, sometimes it's impossible to stop him.
Also ZywOo's utility damage and flashbang efficiency are more or less close to the average values.
So, he doesn't underperform in any category of our pentagon.

The beast.
Read more: ZywOo and RpK made hundreds armor mistakes in 2020
Fun Stats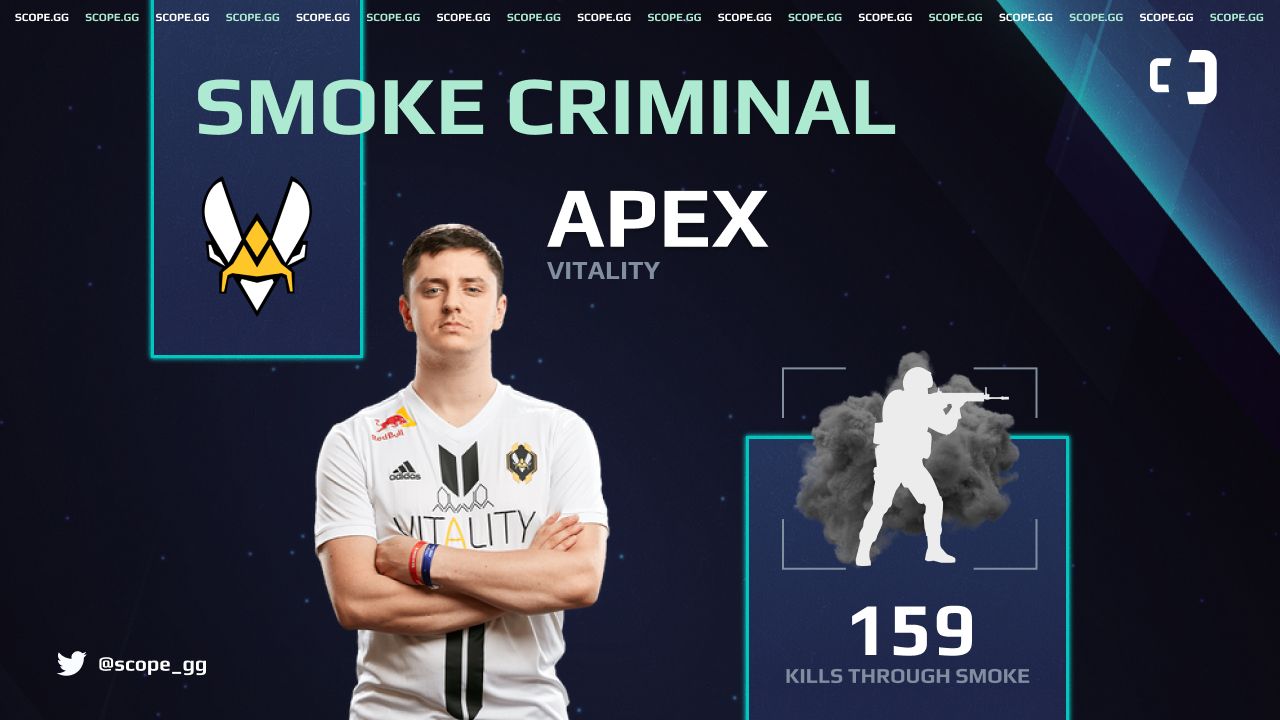 Team's Highlights
---
In conclusion, we'd like to repeat: we respect Vitality's successful performance in 2020. The way they implemented misutaaa in their structure of the game is incredible.
But as a team, they don't perform that well – ZywOo brings a lot impact, resulting in Vitality often focusing on him too much. It's okay to use a playstyle like this (especially if it brings success!), but this still creates disbalance in many factors.
Best teams of 2020
• #10, FaZe Clan
• #9, mousesports
• #7, Heroic
• #6 FURIA
• #5, G2
• #4, BIG
• #3, OG
• #2, Natus Vincere
• #1, Astralis