Introduction
2020 started stressful for Astralis: 10th-12th place at BLAST Premier Spring Series 2020 in London, where the Danes were lost to Complexity and Natus Vincere, going to BLAST Showdown Spring 2020. Right after, IEM Katowice 2020 was held, where Astralis easily passed the group, but in the semifinals again came across Na`Vi and failed to cope with them.
EPL S11 Europe opened the list of online events in 2020; Astralis returned to last year's form and reached the final. Following the EPL 11, the Danish five left no chance for anyone at European RMR tournament Road to Rio, taking 1st place and receiving 1,600 rating points in addition. Subsequent tournaments –DreamHack Masters Spring 2020 and BLAST Premier Spring Showdown, Astralis played in a modified line-up: JUGi played instead of gla1ve who left the line-up for medical reasons, and Snappi was bought out on loan from TIGER to replace Xyp9x who also went inactive. In that roster Astralis made it to Dreamhack playoffs, where in the first game they were defeated by NiP and took 9th-12th place. Then, Astralis failed to qualify for BLAST Spring Finals and went to tournament break.
After the summer break astralis made changes in the roster once again: es3tag came to the Danish team after the expiration of the contract with Heroic and Bubzkji was bought out from MAD Lions to replace JUGi to make an active squad of six players. So Astralis played ESL One Cologne 2020 Europe, where they were eliminated in the first round of the playoffs.
EPL S12 Europe was the next big event on Astralis' path, and gla1ve returned to the starting line-up. The Danes calmly reached the playoffs, reached the grand final without any problems, and there made a comeback from a score of 0-2 against Natus Vincere, winning for the second time in 2020.
In the Dreamhack Open Fall 2020, Astralis showed a good performance, finishing the tournament in third place. Soon es3tag left Astralis (moved to Cloud9), his place in the active roster in the Fall season of BLAST Premier was taken by Xyp9x – the Danes took a slot in the BLAST Premier Fall Finals.
After success in BLAST, Astralis were once again eliminated from the first round of the playoffs, this time in IEM Beijing-Haidian 2020.
By DreamHack Masters Winter 2020 Europe Astralis introduced a 6th player, Bubzkji, he replaced Xyp9x on Nuke. After losing to GODSENT in the first match, the Danes gathered and took 1st place in the tournament without much difficulty.
According to the same scenario, Fall Finals of BLAST Premier were held, but in the final match the Danes were stopped by Vitality.
Achievements
#1, IEM Global Challenge 2020
#1, DreamHack Masters Winter 2020 Europe
#1, ESL One: Road to Rio - Europe
#1, ESL Pro League Season 12 Europe
#2, BLAST Premier Fall 2020 Finals
#3-#4, IEM Katowice 2020
#3, ESL Pro League Season 11 Europe
#3, DreamHack Open Fall 2020
Statistical Review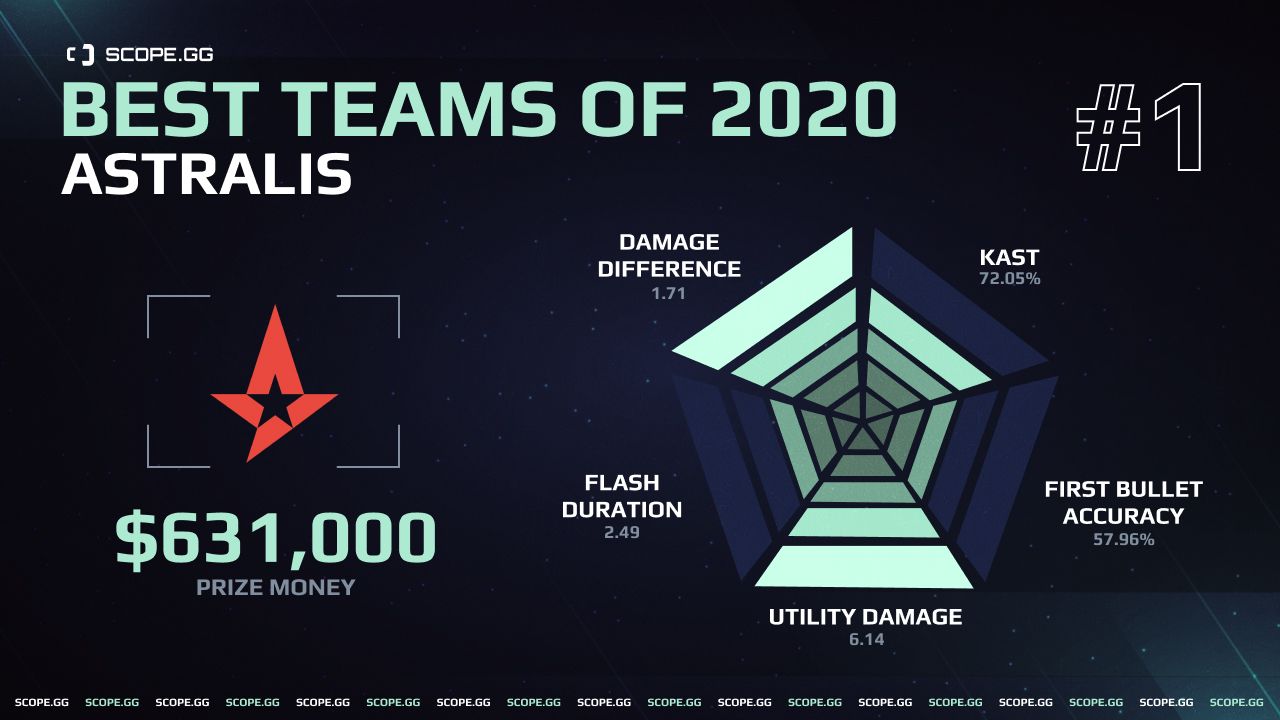 6.14 Utility Damage per round -  Astralis are insane! It's the highest number in this parameter across our top-10 teams.
Additionally, we'd like to mention high KAST & decent winrates in 5x4 and 4x5 situations. In combination with a high-level shooting impact it made Astralis #1 in our list.

Weak spots? No, no, no. Across all the parameters we took Astralis performed average or better than average.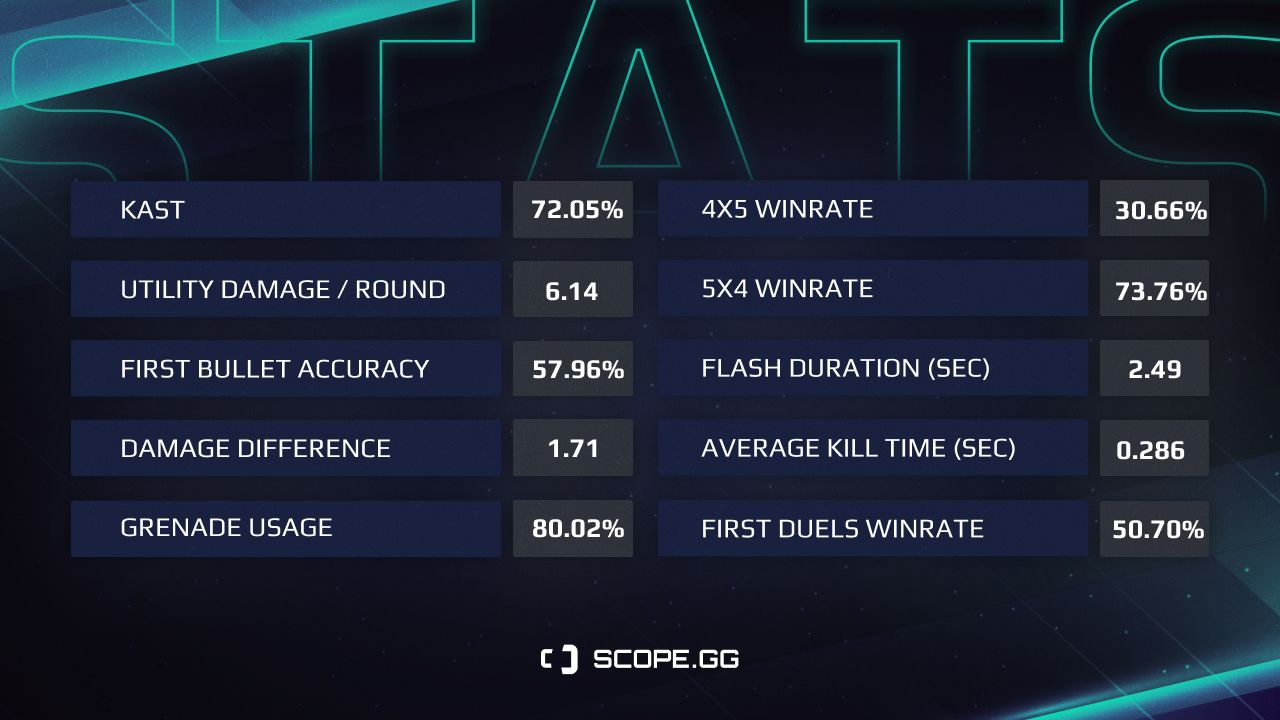 Big Number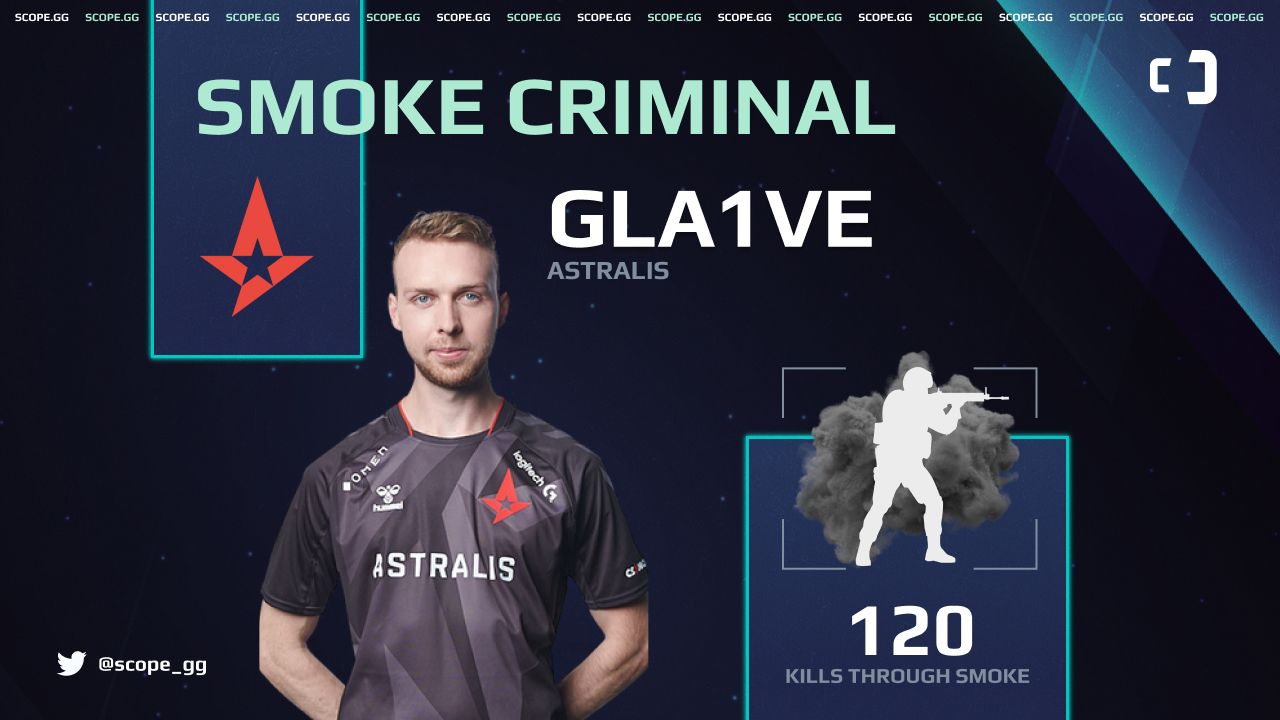 Top Performance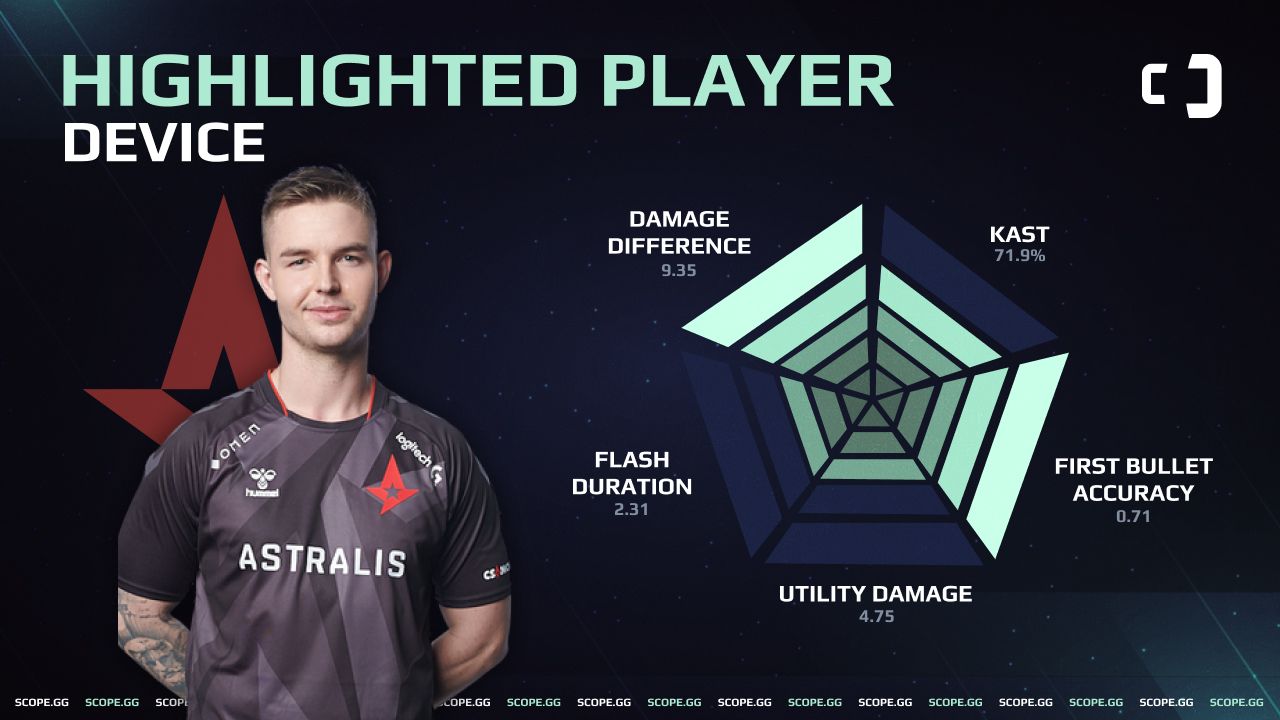 Unlike many other snipers who got high shooting impact (First Bullet Accuracy & Damage Difference) and decent KAST, device also worked well with all types of grenades.
And the amount of device's outcoming damage was incredible!
Fun Stats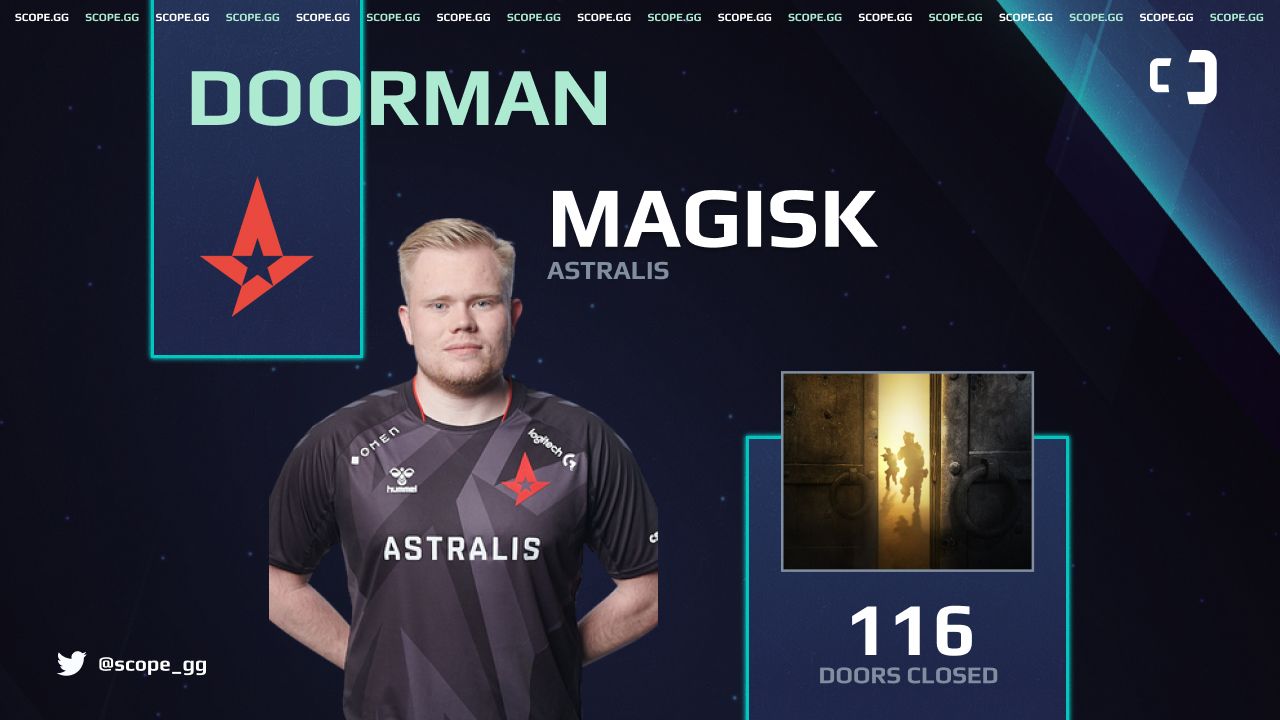 Team's Highlights
Astralis had tough 2020 with up & downs, but in general, as a team they performed incredibly well in all the lineups they used during the last year.
Astralis has proven that they are great despite anything. Their sustainability is undisputed and it make them hold the top of CS:GO for years.
• #10, FaZe Clan
• #9, mousesports
• #8, Vitality
• #7, Heroic
• #6, FURIA
• #5, G2
• #4, BIG
• #3, OG
• #2, Natus Vincere