At some point in the game, we ask ourselves:
What if I play together with someone else?

The reason is clear. Here are the possible reasons:
I will rank up faster
I will stop raging at random people in voice chat
We will together enjoy the prepared tactics and grenade set ups
We will laugh together and discuss new TV series etc.
So, here we're going to look for such people in matchmaking or in special groups on Steam or Discord. Seems like a good plan, doesn't it? We come across different profiles of players and make sure that we are not the only ones who want to play in a party. There are a lot of us, players who want to find teammates.
But we are faced with many difficulties.
Either people don't reply to your form or just don't add you to their friend lists. And even if a miracle happened, the probability of finding a person with similar interests is so small. You'll have more luck getting a knife from a case.

It is also difficult to establish communication with a new dude from the Internet when you've already looked through so many players' profiles. Just imagine how hard to start writing the same sentence over and over again:

"Hello, how are you? My name is Omar. I'm from London. Let's play CS:GO!"
Why is it hard to find the perfect teammate?

Let's check how SCOPE.GG users have answered this question:

• "People did not fit in time (different time zone)";
• "People did not fit in age";
• "There were no common interests";
• "Difficult to have the perfect time & perfect way to talk";
• "It was not clear what kind of person was behind the profile";
• "Different languages";
• "Different skill levels";
• "Different goals for the game (someone wants to play for fun, someone is ready to get into professional level)".

Looks like it's always hard to find an ideal one. But there are some principles to follow when looking for teammates. We asked SCOPE.GG users once again and assembled the most important of these principles:
• "You need to look for people who play at the same time as you do. So, you won't be waiting hours to play a game";
• "I would like to play with players of the same level of play, or slightly higher than mine";
• "The number of hours in the game is related to the understanding of the game";
• "Adequacy is the most important thing. I don't like toxic people and people who always try to teach me";
• "The ideal teammate is a dude to hang out with. It's even better if you become friends or find common interests besides CS:GO".

SCOPE.GG presents a unique service that will help you find your perfect teammates. We call it internally "Tinder for CS:GO players".
How to find teammates on SCOPE.GG

If you are not registered on SCOPE.GG yet, then it's time to do it, because otherwise you won't be able to get into the necessary section using this link:

FIND YOUR PERFECT TEAMMATE

Let's talk about how to use the "find your teammate" service on SCOPE.GG!
Step # 1. Tell us about yourself

By clicking on the link above, you will see the form and the first step of registration in the system for searching for teammates. First of all, tell us about yourself - complete following information:
• Name;
• Age;
• The languages you speak.
Thus, we will show you people who match your spoken language and are around your age.
Step # 2. Tell others about your goals for the game

General goals are a very important metric when searching. For example, if you want to win the Major, you will need teammates with 100% motivation!
Step # 3. Choose your game role

We (and we hope you also)  don't need 5 snipers to be caught in the same party, so let's choose the roles honestly.
Well, let's add some magic and correct your role automatically depending on your statistics on SCOPE.GG.
Step # 4. Choose your play style

You can skip this step if you don't find something suitable for you. If you have some ideas about how we can improve this "step", please write to us in our Discord.
Step # 5. Choose your interests

The coolest thing about this project is that you can find a friend with the same interests. Probably you will not even play after the first match you played. But, you already have something in common. 5 interests is the maximum number here. Choose wisely!
Step 6. Choose your favorite team

There is no Barcelona or Real Madrid. Esports only. Click on the team that you like the most, even if you don't follow the pro-scene. And then we will display statistics by which you can see which team has the most fans besides SCOPE.GG users.
Step 7. Add links to your Steam & Discord profiles

If you don't know how to find the Discord ID, then here's a little clue for you. You will find it at the bottom of the application window. Look at the screenshot. Here's two icons (the microphone & headphones). Click on your name and the link will be copied. We will add your Steam ID automatically, since you registered on SCOPE.GG  and added it earlier.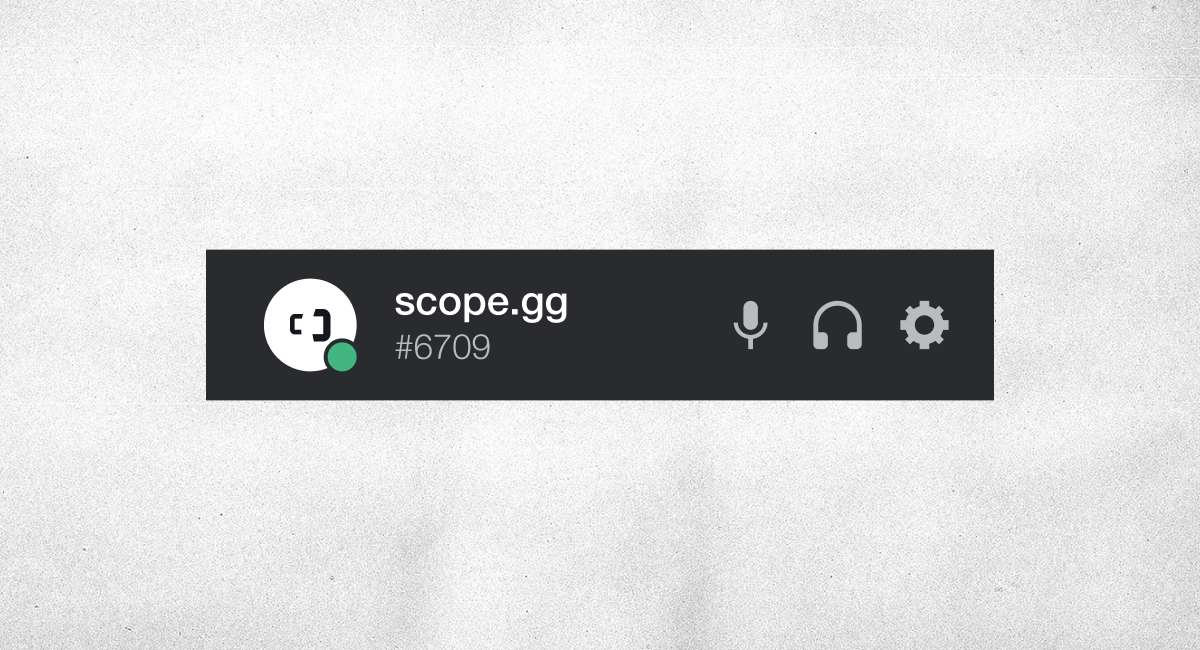 Step 8. Sign the manifest

This is the step where many players will stop filling out the form. But we hope that you will sign this manifest. We stand for a positive atmosphere in our community, so the people breaking these rules will be banned. Just show respect towards your teammates and they will become your friends.
* You need to hold down the button to sign the manifest
Congratulations! You have registered your teammate search profile on SCOPE.GG!
Now you can look at the profiles of other users. But we will open access to the profiles later, when we will have enough people in the database. By doing it, we make sure that the selection is of high quality. Hey, don't forget to share the link for the service with your friends. So we will have enough players to get the process of searching for teammates way quicker.
Ready to see what it looks like? Here you go!

Based on your answers in the form and, most importantly, on your statistical data on SCOPE.GG, we will match you with other players. You can flip through the profiles using the "A" and "D" buttons. Just like onTinder or any other dating application.
If you like any of the players, add them to your list.
And yes, here's also your game activity. You didn't type it in the form, but we know how to analyze your games, and we also know when you play most often.
Register your profile at SCOPE.GG and find your perfect teammates now! Click the link down below ↓