In 2021 Virtus.Pro's current roster managed to make it to the list of the best teams of the year for the first time, where they are ranked 6th. At the end of 2019, the AVANGAR roster, which included Kazakhstani and Russian players, moved to Virtus.Pro. For several years VP succeeded to maintain a high level. The line-up change during the 2021 helped them to show significant progress.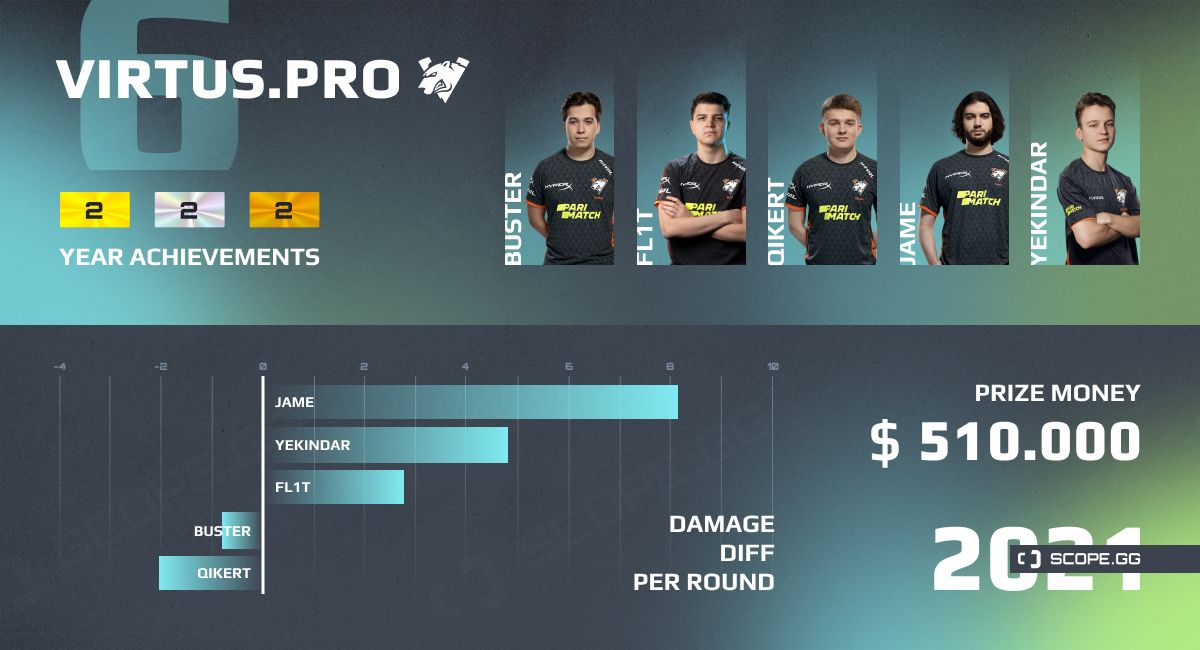 At the beginning of the year Virtus.Pro started the season quite confidently: the current "bears" roster managed to get 1st place at cs_summit 7. During the tournament VP did not lose a single map in all stages. VP consolidated the success, showing an impressive result at IEM XV - World Championship, where the Jame team easily reached the Grand Final, beating NIP, Vitality, FURIA and Liquid. Unfortunately, Gambit became the champions of the tournament. They left Virtus.Pro practically no chance in the championship match. Before the summer break, Virtus.Pro also took 2nd place at the first RMR tournament in the CIS region, where they've lost to Gambit in the grand final - 3-1.
In the second half of the year, Virtus.Pro qualified for PGL Major Stockholm 2021. However, a few days before the start of the main tournament of the year, the roster was changed: Evgeny 'FL1T' Lebedev from the forZe team replaced Sanzhar 'SANJI' Kuliev. Despite the unexpected change in the line-up, VP advanced to the Play-off stage, where they lost in the first game vs. Heroic. At the end of the season, Virtus.Pro were able to please their fans with a performance at IEM XVI. The team reached the playoffs without any problems and took 3-4 place.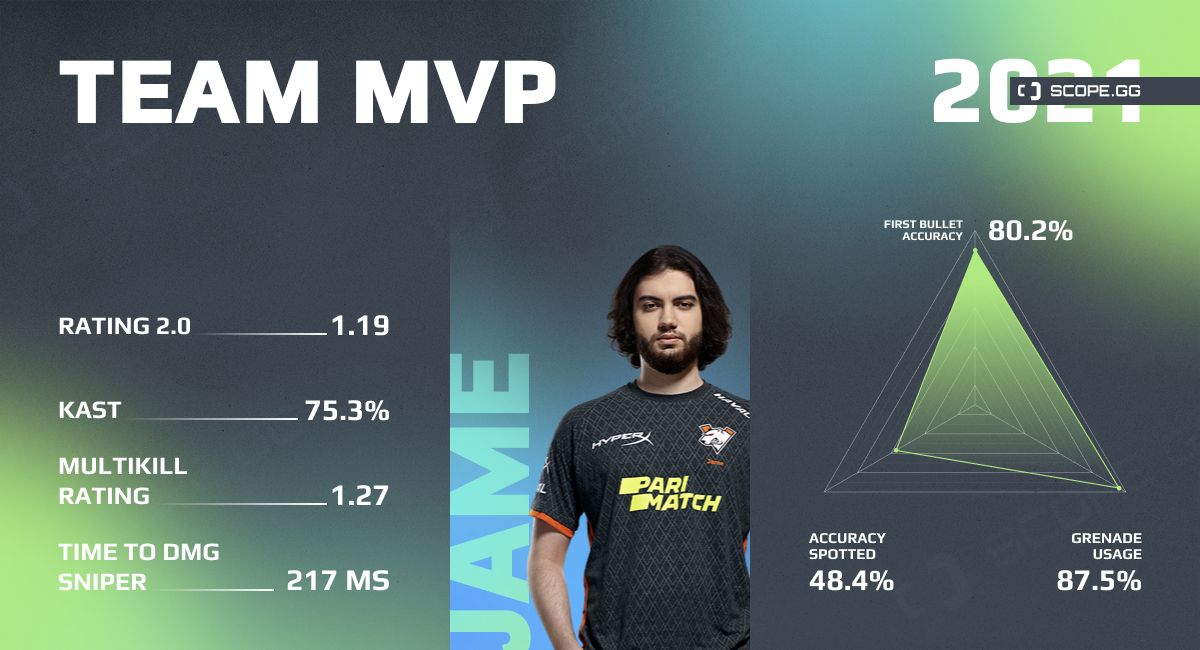 In terms of team statistics and performance on the major tournaments of 2021, the current season can be considered a truly successful one for Virtus.Pro. Note that the team led by Jame managed to get into the playoffs of the S & A-tier tournaments many times. Some of them were really successful for the CIS team: they managed to get into the TOP-3 6 times during 2021.
Interesting statistics
JAMETIME, but... this time without an AWP. In 2021, Jame saved 920 purchased grenades.
buster couldn't end the year without economic errors. The player bought a kevlar 144 times in situations where it was not required.
Top Teams of 2021:
• # 10, BIG
• # 9, Team Liquid
• # 8, NIP
• # 7, Astralis
• # 6, Virtus.Pro