In 2021, Ninjas in Pyjamas managed to boost their roster quite well and shown an excellent performance not only in the European region, but also on the international level, especially after the return of the LAN tournaments. At the end of the year, the Swedish team is ranked 8th in our TOP-10 Best Teams of 2021.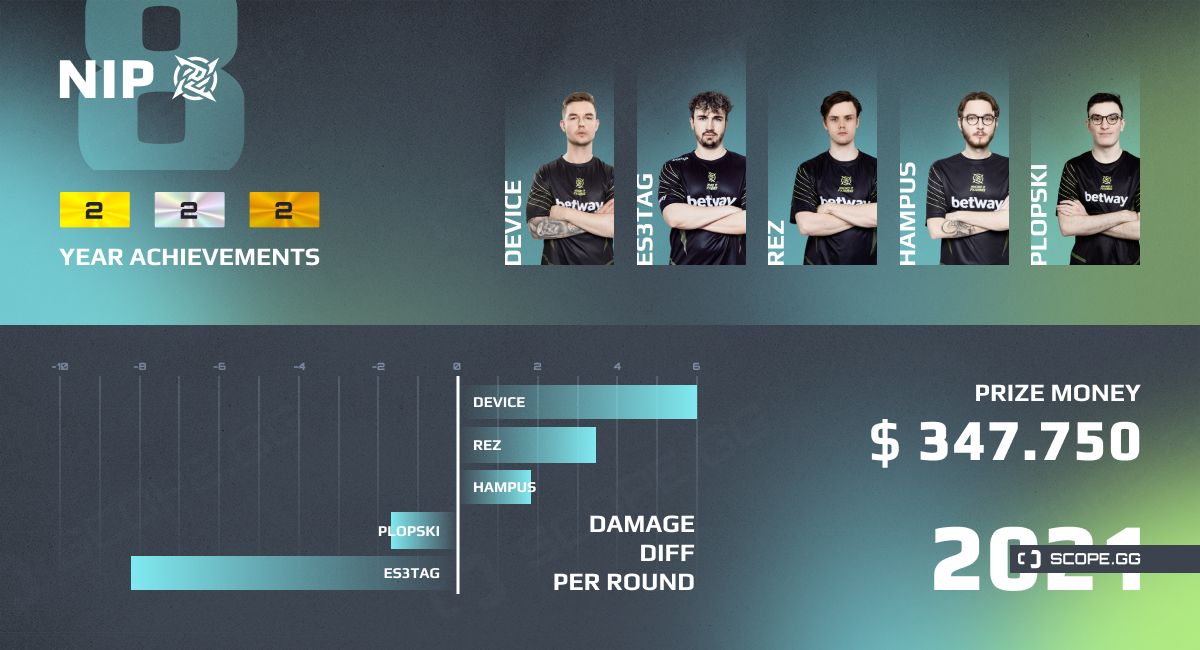 "Ninjas in Pajamas" failed to show the desired result at the start of the season, therefore a new player Erik 'ztr' Gustafsson was added to the main roster from the academy team. The young blood in the team was almost immediately able to help NIP diversify their game. As a result — 3-4 place at ESL Pro League S13.
Another key and rather successful decision in terms of team organization was the transition of Nikolai 'dev1ce' Ritz from Astralis. Such changes had a positive effect on the team's game and at the next RMR tournament Flashpoint S3 NIP took 2nd place, losing only to MOUZ in the Grand Final. However, immediately after a successful performance at an important tournament, ztr went back to the academy team. He was replaced by another young Swedish player Linus 'LNZ' Holtong.
At the spring finals of BLAST Premier dev1ce and Co. managed to pass the lower bracket and take the final 4th place. The berserk mode ON and incredible will to win allowed NIP to show their best performance during the second qualifier for the Major tournament - IEM XVI Fall. As part of the tournament, the Ninjas dealt with all opponents and received a ticket straight to the Legends stage of Major.
At the home tournament PGL Major Stockholm 2021, Ninjas in Pyjamas were not ready for an equal fight with tier-1 teams. NIP managed to grab the opportunity to get on Avicii Arena. In the main matches with Gambit, Natus Vincere and G2, the dev1ce's team failed to beat each of them. After the main event of the year, the team faced new changes in the active roster: LNZ had to return to Young Ninjas, and was replaced by experienced Patrick 'es3tag' Hansen.
The NIP has spent a year constantly adjusting and calibrating various formulations of their roster. Not always successful experiments helped NIP to get show good results at S & A-tier tournaments several times. The Ninjas showed their best side and were able to demonstrate sufficient progress compared to last year, which allowed them to get to the 8th line of the ranking of the Best teams of 2021.
Interesting statistics
Chicken Killer - In 2021, hampus made 116 chicken kills on the Inferno.
As many as 53 times REZ died with a grenade in his hand.
Top Teams of 2021:
• # 10, BIG
• # 9, Team Liquid
• # 8, NIP
• # 7, Astralis
• # 6, Virtus.Pro