Berlin International Gaming opens the list of the Best Teams in 2021. The German team is ranked 10th. BIG began the year with a loss of their coach, tow b, who was replaced by Dustin 'DuDe' Grosmann, so let's look how the team was performing during the year.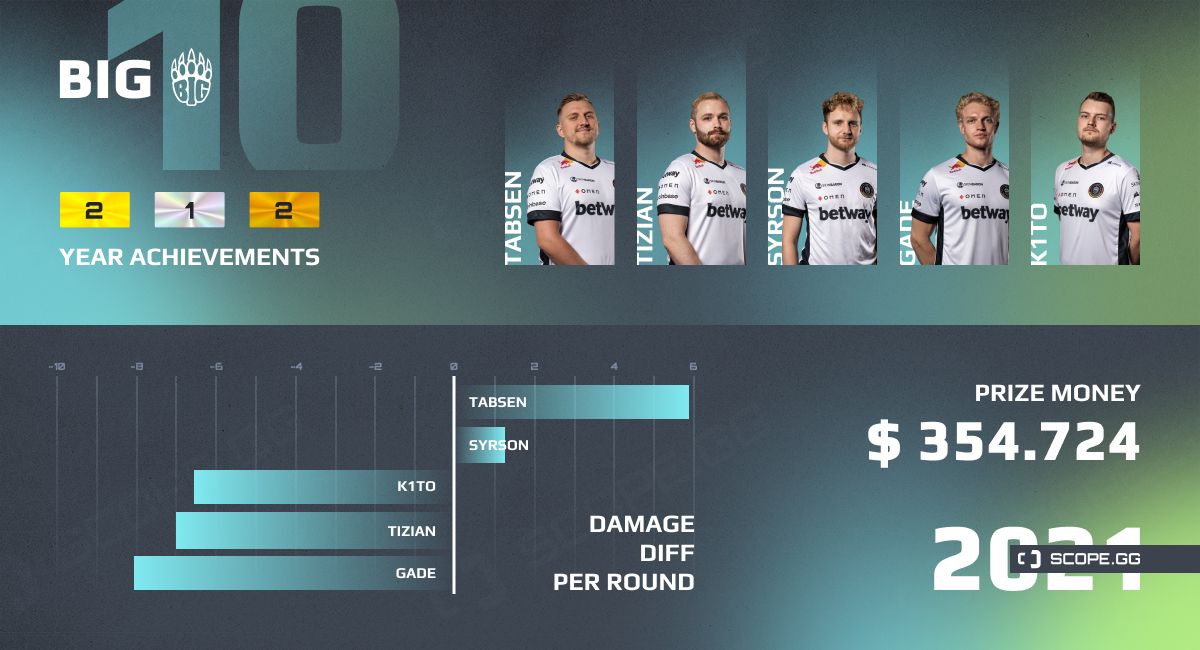 At the beginning of the season, BIG took several podiums at various tournaments. The tabseN's team advanced to the finals of BLAST Premier:Spring Groups, where the roster overpowered NIP — 2:0 in the Group Final match. At the subsequent Funspark ULTI 2020 with a prize fund of $ 300,000, BIG showed a high level of skill and took 1st place.
After a summer break, there were some changes in the team: XANTARES left the roster and was replaced by gade. Also DuDe left the post of head coach, his place was temporarily taken by LEGIJA.
With this roster BIG approached the main tournament of the year. At PGL Major Stockholm, the Berlin team stopped on the Challenger stage; in their match for qualifying to the Legend Stage, BIG lost 1:2 to MOUZ. After the tournament, enkayJ became the new head coach of the team.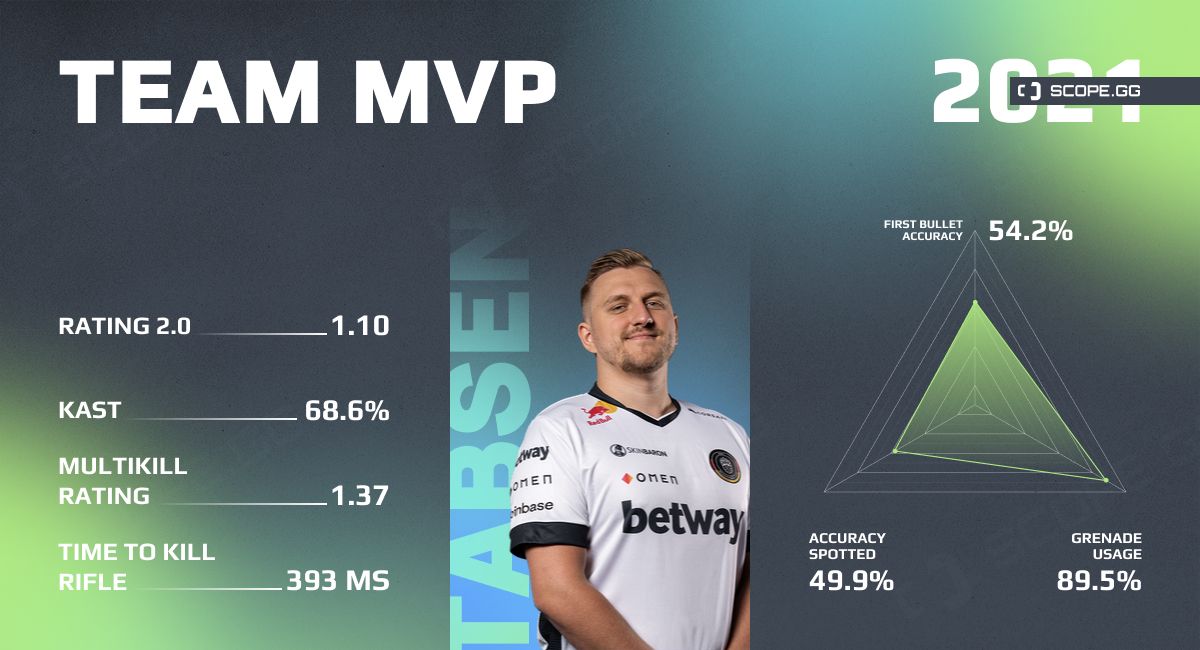 In the second half of the year, BIG showed a good performance at DreamHack Open November, where the team managed to reach the grand-final. Unfortunately, they couldn't claim victory here: 0-3 vs. fnatic. In the end of 2021, BIG also got into the playoffs of the V4 Future Sports Festival in Budapest, but lost to Gambit in the semifinals.
Interesting statistics

tabseN missed 182 incendiaries/Molotovs: 97 of them landed in the smoke and another 85 exploded in the air;
syrsoN died 163 times with a grenade in his hand.
Compared to 2020, BIG has failed to reach the same level (they were placed 4th in our 2020 ranking). During 2021 they were constantly searching their new head coach, that might become the key factor of their unstable performance. tabseN and Co. took part in many online tournaments, but did not show significant success in them. Despite this, BIG still make it to the top 10 due their good performance at the beginning and the end of the season.
Top Teams of 2021:
• # 10, BIG
• # 9, Team Liquid
• # 8, NIP
• # 7, Astralis
• # 6, Virtus.Pro