Without any doubts, the most successful team in 2020, Astralis, is ranked 7th in the top of the best teams of 2021. In the past season, the Danish team did not manage not to retain the supremacy of previous yearsю They also couldn't avoid replacements in the active roster. Of the truly legendary five Danes, only Xyp9x & gla1ve remained in the roster. But even despite the numerous changes in the roster, it was still interesting to follow Astralis. The team demonstrated their best result at BLAST Premier: Global Final 2020, where they took 2nd place, losing to Natus Vincere in the Grand Final.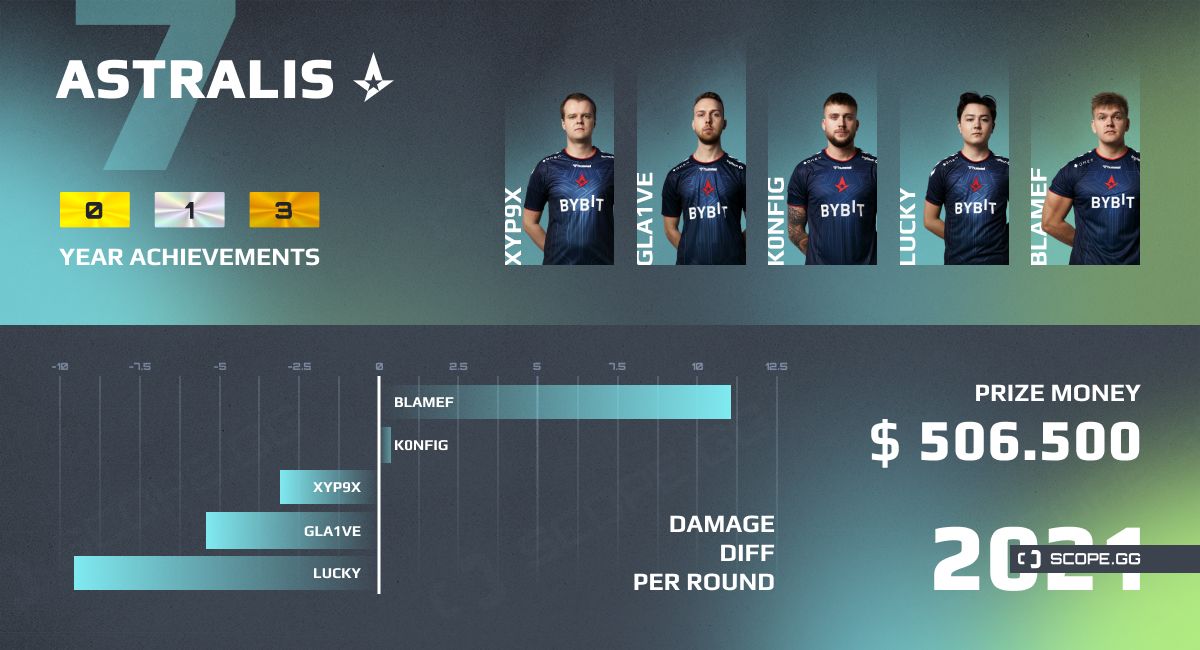 In April, the transfer of Nikolai 'dev1ce' Ritz to the NIP rocked the news feed. These changes not only put an end to the legendary roster, but also allowed the sixth player - Lucas 'Bubzkji' Andersen to show himself as a part of the team. An excellent moment for a young and ambitious player to show all that he is capable of. But the next few tournaments for the renewed roster did not end as well as before. Several 5-6 places in a row, as a result, Astralis completely failed to start the first half of the year. Only within the last tournament before the summer break the Danes reached the semi-final & earned 3-4th place at IEM XVI - Cologne, losing 2-1 to G2.
The next important milestone for the team in 2021 was the performance at the European RMR - IEM XVI - Fall: Europe. In the months leading up to the tournament, the team recruited young talent from Tricked Esport, Philip 'Lucky' Ewald, to play the sniper role. Immediately after dev1ce left, he took over the sniper role, replacing Andreas 'Xyp9x' Hoislet. It was the acquisition of a new player that became a key aspect for Astralis: the team showed a decent result in qualifiers and made it to the main tournament, but even after a good performance Astralis management decided to make some changes in the active roster. Before the main event of the year, Bubzkji switched places with Xyp9x on the bench.
Unfortunately, during PGL Major Stockholm 2021, the team was unable to show the result that the fans were waiting for. The Danes barely made it to the Legends stage with a score of 3-2, where later they were able to defeat only the Brazilians from FURIA. Astralis' path in the tournament ended in 12-14th place.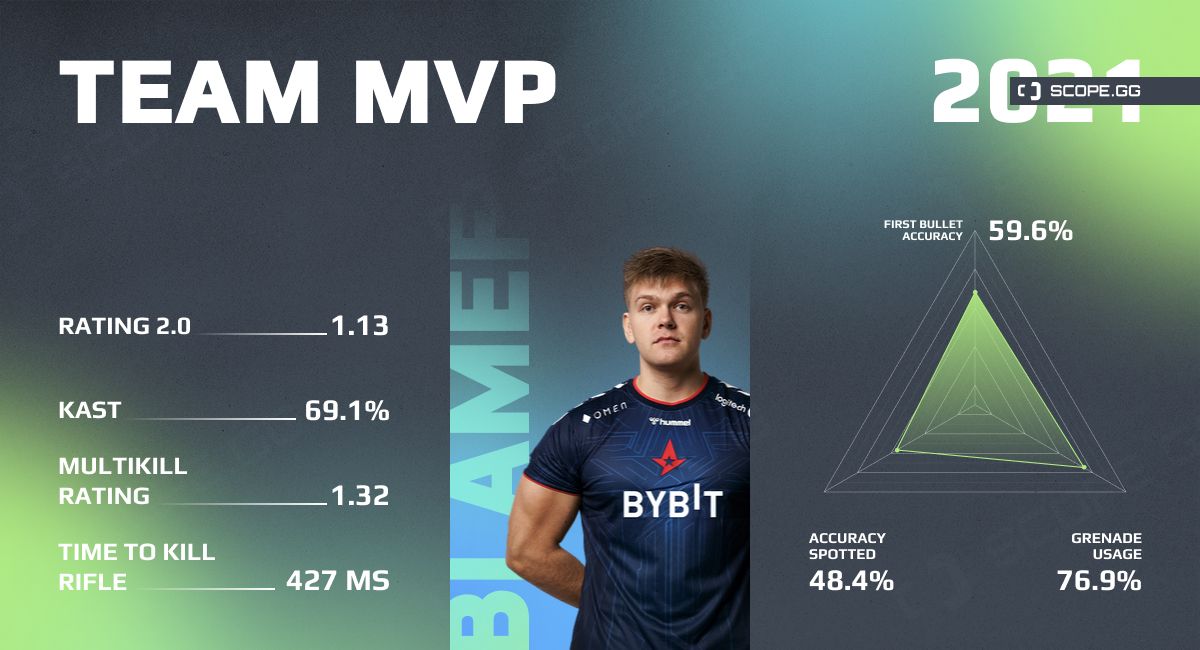 At the end of the year, after a controversial performance at the Major, the team again underwent major changes. Peter 'dupreeh' Rotmane, Emil 'Magisk' Reif and squad coach Danny 'zonic' Sørensen left the main squad. They were replaced by the players from Complexity Christian 'k0nfig' Vinecke and Benjamin 'blameF' Bremer, and the coach was Alexander 'ave' Holdt.
Interesting statistics
Xyp9x became a true master of grenades. Andreas used 86.6% of the purchased grenades.
The captain of the team — gla1ve made 111 kills through the smoke during 2021.
Top Teams of 2021:
• # 10, BIG
• # 9, Team Liquid
• # 8, NIP
• # 7, Astralis
• # 6, Virtus.Pro