Being the second best team in 2020, Natus Vincere continued their dominance throughout the new 2021 season. As a result, his CIS team earned the title of the best team in 2021. The 'Born to Win' managed to demonstrate an incredible performance during the season and earn more than $ 4 million in prize money, breaking the previous record of the Danish team Astralis.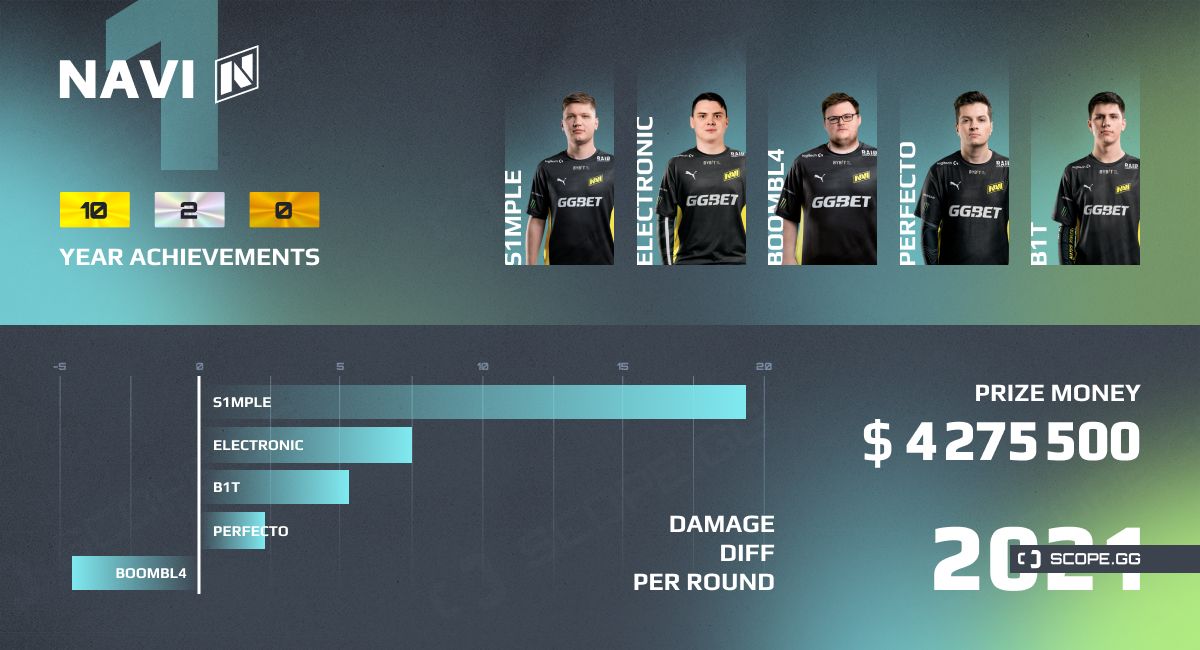 Natus Vincere started the year with a confident victory in the BLAST Premier:Global Finals, but the next two tournaments already clearly showed that NaVi's form is far from ideal. Within the framework of IEM Katowice and ESL Pro League S13, the "Born to Win" failed to demonstrate a stable performance and get into the prize-winners. That is why the leadership of the team made one of the most important and decisive decisions this year: replacing the main team of Yegor 'flamie' Vasilev with Valery 'B1T' Vakhovsky.
At the next DreamHack Masters Spring tournament, the titans of the CIS region easily reached the Grand Final, where they beat Gambit — 3:0. The victory in the tournament with a new player marked the beginning of the total domination of NaVi both in the region and on the world podium. During the year, the team reached all the finals of the tournaments where it took part. Only in two of them did NaVi lose to one of its main competitors in 2021 - Gambit.
We have to make a particular chapter about the Natus Vincere's performance at the main tournament of the year — PGL Major Stockholm 2021. s1mple and his team started their path from the Legends stage and did not lose a single map in the entire tournament. In the grand final of the tournament NAVI managed to beat the G2 Esports team and become the first team in the history of the CS: GO majors to finish the championship with a 100% win rate. Team sniper Alexander 's1mple' Kostylev not only won the title of Major, but also became the most valuable player in the tournament.
The team led by coach Andrey 'B1ad3' Gorodensky finished this year with a victory at BLAST Premier:World Finals 2021. The year for the team can be considered the best for the organization itself without any doubt. After the return of LAN tournaments, Natus Vincere managed to win 4 of them in a row. As a result, the team from the CIS region collected victories in 10 tournaments this year and became the best team in 2021.
Interesting statistics

In 2021, Perfecto managed to become the winner of 103 times clutches 1vx.
During the season, s1mple made 18 knife kills.
More useful statistics are always on Scope.gg
Top Teams of 2021:

• # 10, BIG
• # 9, Team Liquid
• # 8, NIP
• # 7, Astralis
• # 6, Virtus.Pro
• # 5, Team Vitality
• # 4, Heroic
• # 3, G2 Esports
• # 2, Gambit
• # 1, Natus Vincere