Introduction
BLAST Premier Spring Series 2020 was FaZe Clan's first tournament last year where the international team took 1st place in the group and earned a spot in the Spring Finals. After that, FaZe went to IEM Katowice 2020 where they lost to Natus Vincere in the group's decider match.
In ESL S11 Europe, FaZe advanced to the second group stage and took 5th place. Right after the EPL, the first RMR tournament ESL One: Road to Rio-Europe was held where FaZe took third place and got 1400 RMR points.
By the spring DreamHack Masters 2020 Europe, Bymas replaced olofmeister, and FaZe repeated their third place, twice losing to BIG. In the Spring Finals of BLAST Premier Europe, Faze Clan also managed to reach third place.
At the next RMR event, the European team only took 11th place with 750 points. Right before ESL One Cologne 2020, FaZe underwent roster changes: Kjaerbye took Bymas's place.
Then, it took time for FaZe to find their play, and they couldn't advance out of the group stage in EPL S12 Europe.
FaZe performed pretty well in IEM New York 2020 Europe, sweeping OG 3-0 in the bo5 grand final.
DreamHack Open Fall 2020 then turned out to be unsuccessful for them, with the European team getting stuck in the group stage.
In the autumn series of BLAST Premier 2020, FaZe changed their lineup again: olofmeister stepped in for NiKo who had decided to join G2.
BLAST was followed by IEM Beijing-Haidian 2020 Europe where FaZe qualified for the playoffs, but failed to advance far in the standings.
With similar results for FaZe Clan, BLAST Premier 2020 Fall Showdown and Winter DreamHack Masters 2020 Europe ended the competitive year for FaZe.
Achievements
#1, IEM New York 2020 Europe
#1-#3, BLAST Premier Spring Series 2020
#3, ESL One: Road to Rio - Europe
#3, DreamHack Masters Spring 2020 - Europe
#3, BLAST Premier Spring 2020 Europe Finals
Statistical Review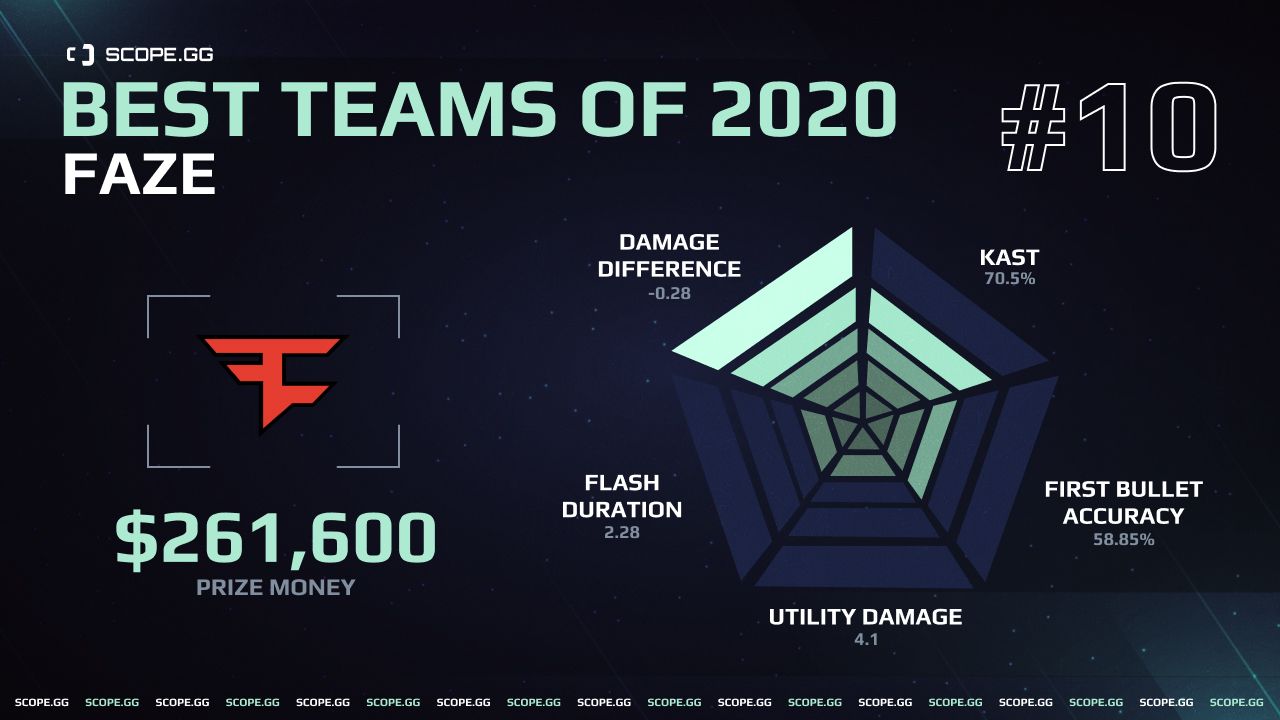 In general, FaZe clan showed average performance in First Bullet Accuracy.
Weakness: utility usage. Both flashbangs efficiency and grenades damage per round are lower than average values.
Strengths: Damage difference (but no wonder here, most top-10 teams will have high damage difference value in comparison to average), and what's more important – KAST.
Many people are used to seeing FaZe Clan as a team of strong individual players, but the past year showed us that FaZe had pretty decent teamwork, too!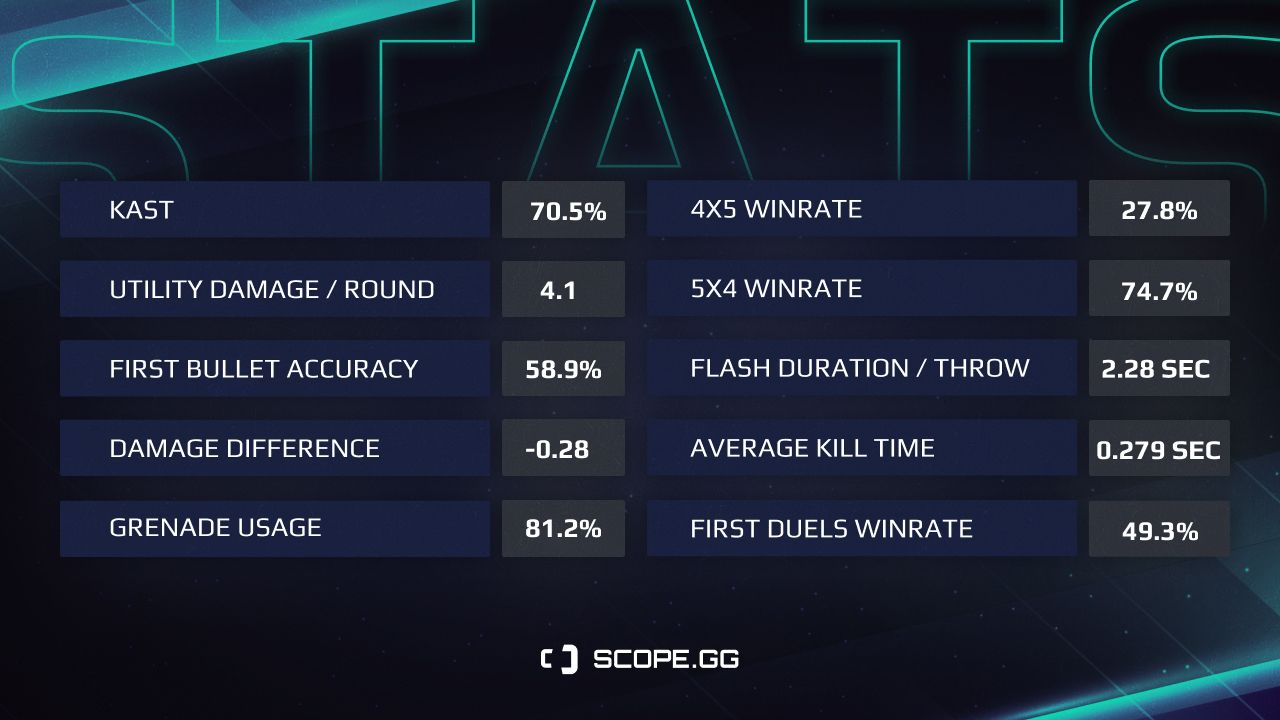 Worth to mention: decent average kill time & utility management.
Both values are ~4% above average.
Though FaZe got 81.2% grenade usage, the efficiency of nades is still under the question mark.
Big Number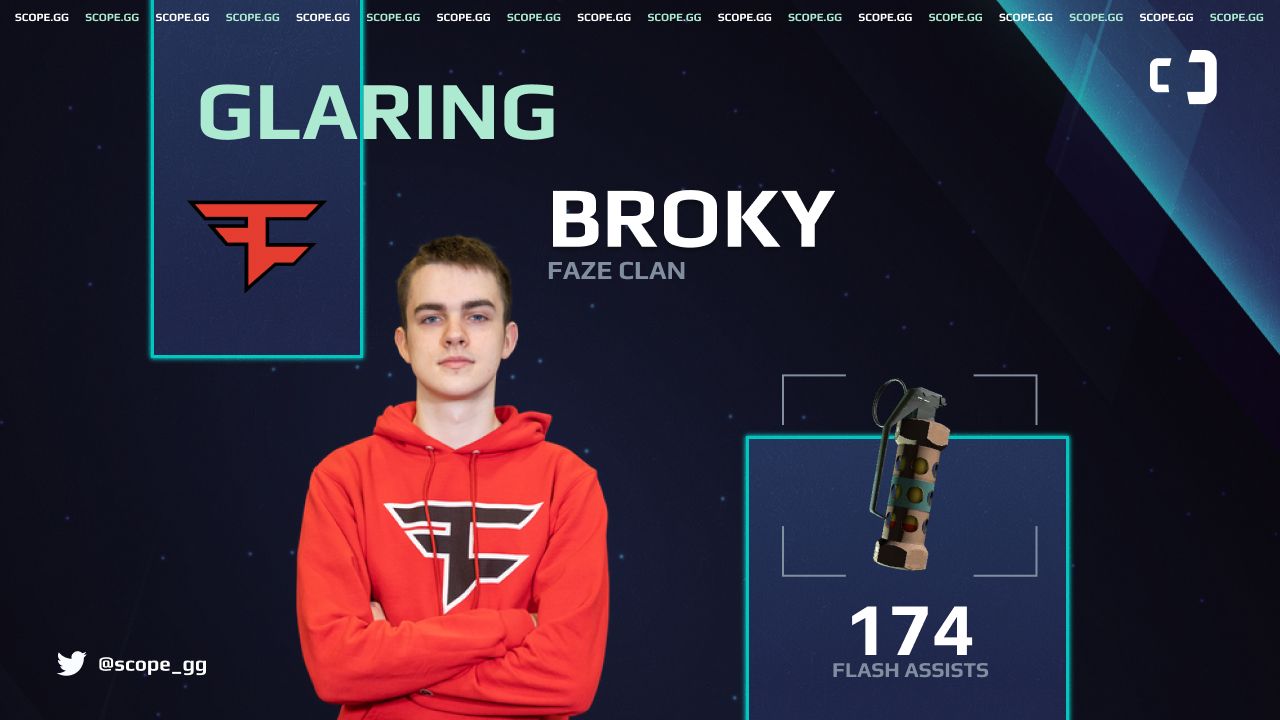 Top Performance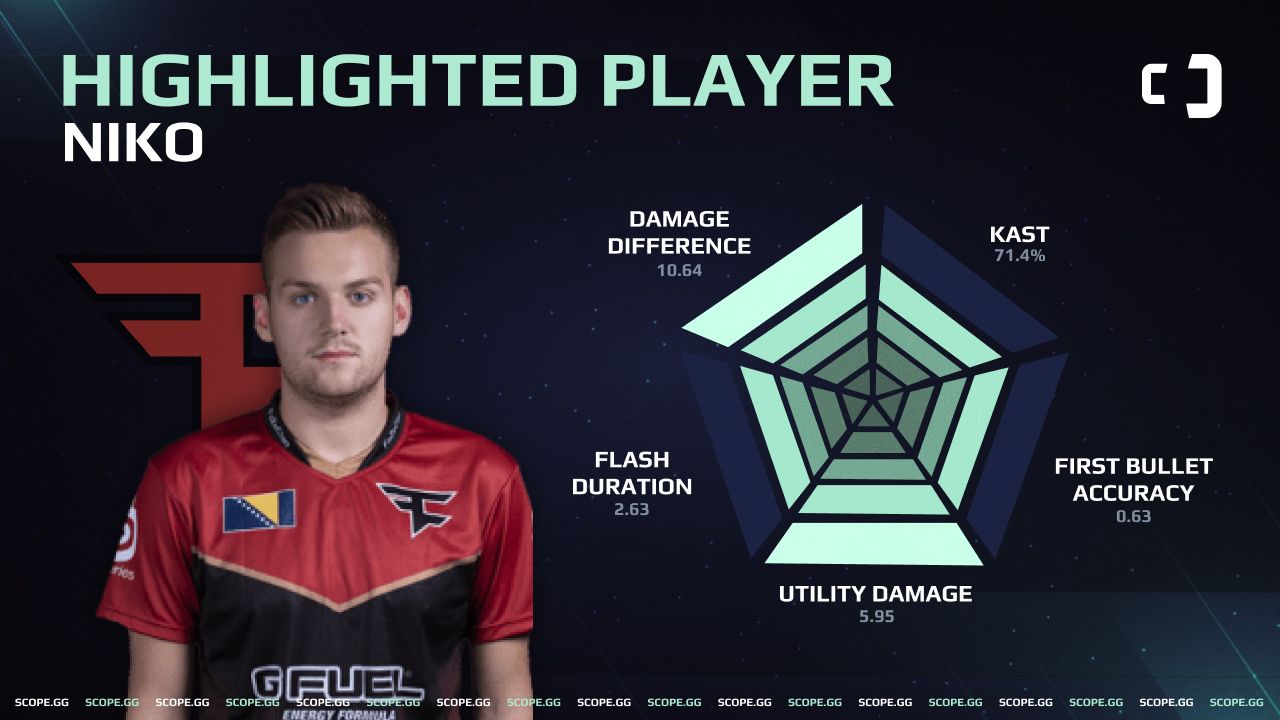 Despite the fact that NiKo changed the team in October 2020, he was the best FaZe's player in the past year.
The pentagon above shows his incredible performance in each parameter.
In addition, NiKo had a 55.02% first duels win rate. What a monster!
Fun Stats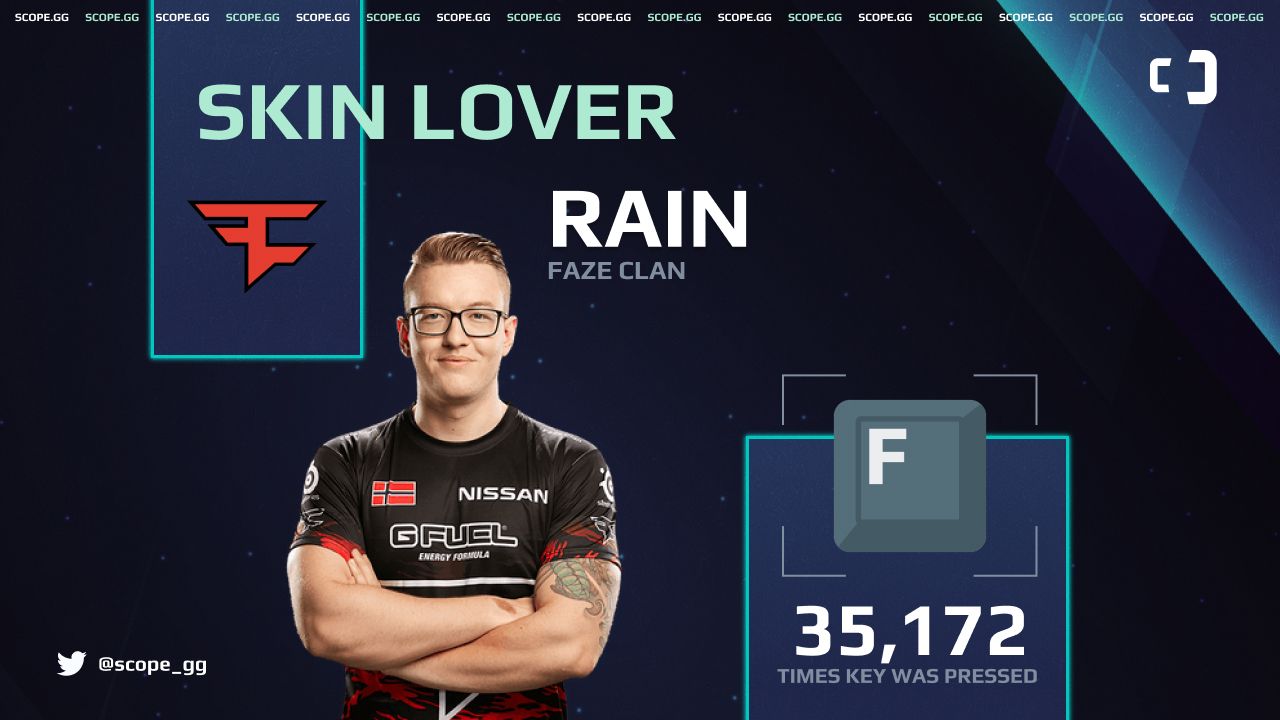 Team's Highlights
---
To summarize: it was a controversial year for FaZe Clan, with up & downs, but the team still showed decent performance.
The most important thing is that FaZe presented us another side of themselves with a better focus on teamplay and helping each other in-game.
• #9, mousesports
• #8, Vitality
• #7, Heroic
• #6 FURIA
• #5, G2
• #4, BIG
• #3, OG
• #2, Natus Vincere
• #1, Astralis